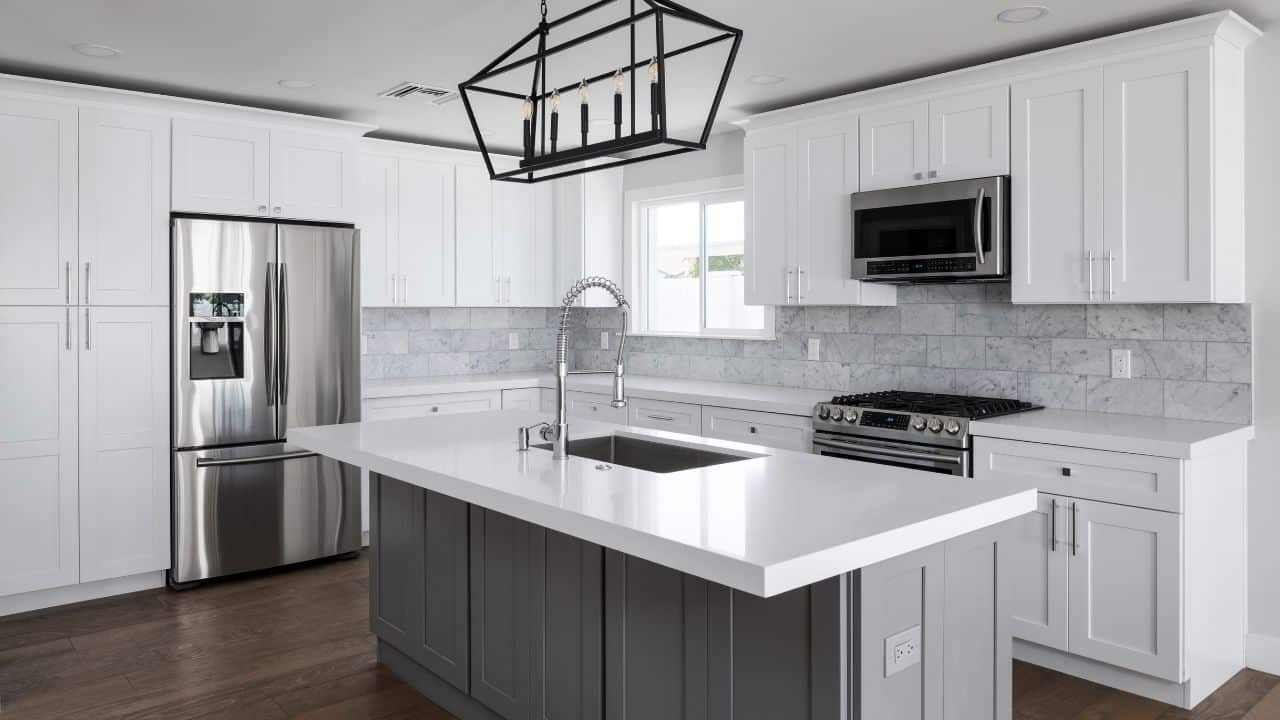 Kitchen remodel projects are quite a task, especially considering all the planning and stress that goes into it. And the sheer abundance of resources available for information only adds to the mounting pressure.
You might have some friends or people from your family to guide you. Even the internet and various magazines offer plenty of ideas. But this mumbo-jumbo of jargon only ends up confusing the homeowners. Too many choices can make it harder to make a decision and actually sit down and plan the whole thing out. 
Why You Need a Kitchen Remodel Guide?
In our years of service in the home improvement industry, we have come across many homeowners who wear themselves out with the amount of information they receive. Not knowing which path is the right one for themselves — they find themselves unable to start.
A kitchen remodel guide that clarifies things that are important is essential to find the right footing. When you are caught up between any aspect of kitchen remodeling, you need to remember some vital things – You need to know what you want and how much are you willing to spend. Everything else follows suit.
Now to help you get there, we have listed down things you need to know. If you need to dive in deeper into the specifics from there — at least you'd have a clear idea what you should be researching about. We have also answered some questions we have obtained from hundreds of homeowners over the years.
After reading this kitchen remodel guide,  we are sure you will have a fair idea about everything you need to remodel a kitchen.
Related: 8 Signs that Demand that You Remodel Your Kitchen Right Away
Set the Right Priorities for Your Kitchen Upgrade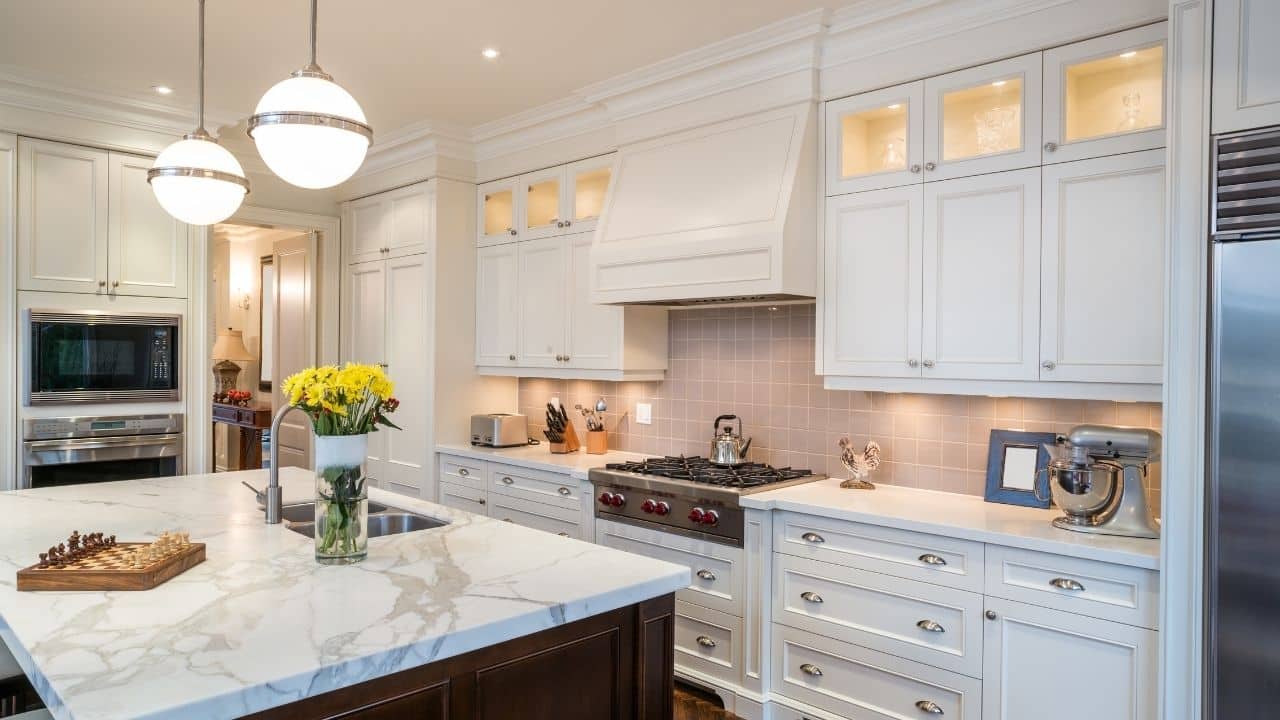 Why do you need to upgrade your kitchen? Maybe your family is expanding, or you are just on a whim. Whatever is the reason, it is necessary to be sure of what you are doing and why you are doing it. If you have any doubts in your mind, it can snowball and take you off the budget quickly.
Once you know about your core issue, you can plan the kitchen remodel to solve the first important issue. Everything else can happen later. For instance, when your kitchen is cluttered and you struggle with countertop space – you might feel the need to add extra storage or extend the length of your worktop. Similarly, all problems can be identified and solved with a plan.
The Right Budget 
Any home improvement project, primarily a kitchen remodel, demands a budget that is well defined. You might go off track and spend money on things you do not need. 
To get an estimate, you need to consult a professional. They can help you decide the things you actually need and the things you just think you need. 
If you are on a tight budget, you can also decide to refurbish certain kitchen elements such as sink, cabinets, etc. rather than buying new ones. Going the DIY route for easy jobs is a way you can save costs.
DIY or Remodeling Company – Make the Right Decision
Take some time to decide, as both the options have their own advantages and disadvantages. The solution would be to incorporate both! 
The trick is to find the right balance. Some things like installing the backsplash, painting the walls or cabinet doors, small tasks like tightening screws, changing faucets, etc. can be done DIY. It is no brainer that doing them yourself would also save you a lot of money.
On the other hand, when we talk about other tasks such as changing the layout, electric rewiring, plumbing, etc. things are better left to professionals. Although, do not pull yourself away from the job when professionals are involved. You need to be there, share your ideas and feedback respectfully, and have the right discussions to get precisely what you want. 
 Related: Pros and Cons of doing kitchen renovation yourself
Do You Need More Storage?
Storage is actually more of an umbrella term. If you are a regular American family, the answer in most cases is yes. 
Your storage needs will increase over time. So, you need to plan for the future rather than just the present. Apart from increasing kitchen storage (which is cabinets exclusively at times), you also need to consider the design. Cabinet designs need to change every few years, and the same cabinets can make your kitchen look contemporary or outdated. Hence, you need to be sure your storage needs are fulfilled for aesthetic and practical reasons.
Make Your Kitchen Stand Out (Not a lot though)
What is to be understood here is that there should be synergy between your kitchen and the rest of the house. Under no circumstances, your kitchen should overpower the rest of the house.
Perfect symbiosis can be achieved if you put in the work and even consult professionals. You do not want the vibe of the kitchen and the house to be opposite to each other. That will make your kitchen appear like a sore thumb.
Does Your Kitchen Need More Lighting?
 Lights are the ultimate mood setters. Ambient lighting is the game changer when it comes to looks and efficiency both. Wherever you go for LED strips to go with the countertops/cabinets or a big chandelier above the island- you have many choices.
The kitchen space is turning more and more and more exciting, so you would need lighting options that would help to relax after a long day's work. We recommend setting aside a portion of your budget for lighting, as it can make or mar your final product.
Is There a Need to Upgrade the Kitchen Appliances?
Appliances are a style statement for the kitchen too. They have equally important functionally. 
If your kitchen has certain appliances that take up too much power or are bulky, you need an upgrade! The modern appliances are elegant, energy-efficient, chic, and blend into the rest of the kitchen effortlessly. They look good, and they also save you a lot of money over time.  
Final words
 Various functionalities and technicalities would go into remodeling a kitchen. Ensure you have the priorities in order when it comes to the final remodeling because it would be an essential step both financially and emotionally.