Contemporary kitchens can make your culinary space feel open while also seeming as minimalistic as possible. Subtle is always the way of the classy, isn't it? If your style sensibilities lean towards classy, luxe, and urbane vibes — a contemporary kitchen remodel is the way to go.
The best part is, there's so many things you can diversify in a contemporary style kitchen. Whether you prefer an all-white space or pops of color all over the space — you can never go wrong. Stick to a clean-lined look that characterizes these kitchens, and you should be good to go. While differences persist from kitchen to kitchen — minimalistic cabinetry, sophisticated color schemes, and metallic accents are characteristics of this style.
If you too are a fan of a no-visual-clutter type of kitchens, check out the following ideas for a contemporary kitchen remodel.
1. Seamless Design Surfaces
A clean, seamless look defines the contemporary style.  In order to achieve the effect, you need to design continuous surfaces that are nearly seamless. For instance, you can have the doors of your cabinets virtually disappear into the wall with similar shades. You can also include the refrigerator within the cabinetry itself. All this, while making enough storage space in the kitchen.
Alternatively, you could also have a perpendicular wall that's done with walnut veneer that touches the space with warmth and interest. You can complement it with a white marble kitchen island near its base. The combination is both warm and clean at the same time.
2. Black and White Design Scheme
The design scheme focuses on the black and white theme as the central part of your contemporary kitchen. For instance, you can have white wall paint. An understated marble island can provide the right contrasting element. To match the whites, you can have black cabinetry, black handles, and even a black hob.
Bring the element into your kitchen by balancing a wall carrying cherry cabinets that are expresso-stained and a dark-hued island with a bright white workstation. Let your dark counters add the contrasting element to the white wall and ceiling. Match the stainless steel toe-kicks with the silver appliances that blend into the streamlined kitchen.
Alternatively, infuse the touch by using black lacquered and grasscloth walls and vintage brass display cases. The notched details on the island countertop will bring into focus the fine details permeating your home.
3. Work Some geometry into your kitchen
We all know the contemporary kitchen is all about clean lines, crisp edges, and neutral tones. To take it a step further, include elements like square corners, appliances with edges that run into angular shapes, etc. You can also have modern bar stools and pendant lights for a chic urban bar vibe.
4. Uncluttered Spaces
A modern kitchen layout is all about being open and uncluttered.
Incorporate open shelving that runs all the way under the upper cabinets to keep the everyday dishes tidy and handy. Also, get your island to feature a chopping block that fuses into your honed marble countertop. A glass tile backsplash will suitably reflect the light and keep the area above your counter and the sink uniform too.
5. Play with the Materials
Let's not confuse the sleek and clean-lined with a picture that's boring and stark. Why not play with the different materials to give your space a beautiful, modern look? 
The signature dark mahogany cabinets and the stainless-steel appliances in your kitchen can be paired with the veined granite counters, a glossy white painted island, and shimmering glass tile walls to create a stunning impact.
 The different materials used in a contemporary style can create an exciting and attractive look in your cooking space.
6. Incorporate Open Kitchen Shelves
Introduce your space to floating shelves and let them do the talking in place of wall cabinets.  These shelves add a nice visual touch and can be great for storage too.  Our personal favorite is the fiery red color.  Shelves in this color add an edge while also significantly complementing the crockery you display on it.
7. Colorful Kitchen Cabinets
The contemporary style leans heavily towards bold, whimsical design statements that include bright, peppy colors. 
Create a design language in the kitchen with light grey light fixtures, tangerine backsplash, a deep grey countertop, and tangerine cabinetry with stainless steel hardware. The colors set a contemporary tone in the kitchen.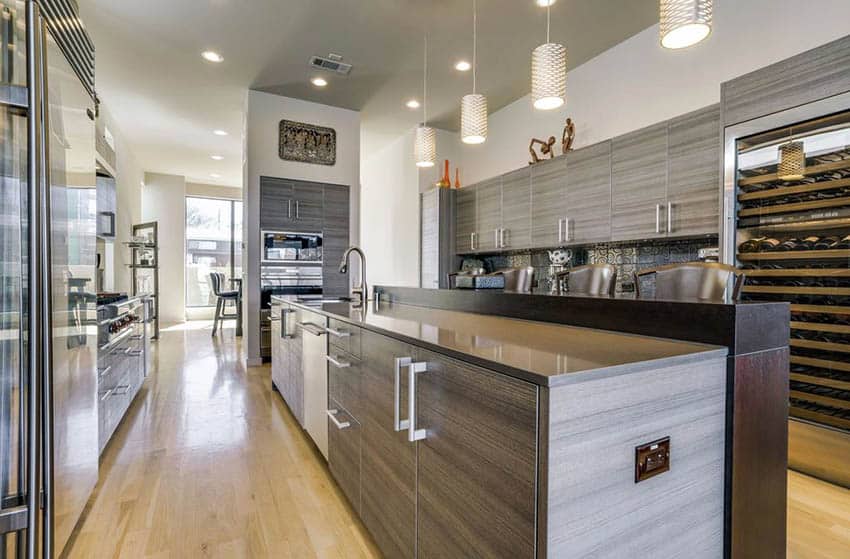 8. Aquamarine Palette in Kitchen
The stunning design adds an element of drama to the kitchen. 
Incorporate glass tiles on the ceiling and walls in a beautiful mix of aquamarine and jade. Also, add ebonized and waxed oak flooring cut in an Escher-lie pattern. The focal point can be a large exhaust hood that's enameled in forest green shade. The impact is monumental! 
9. Green and Gold
Let your kitchen feature a brilliant green island, and a Moroccan tile backsplash also in green to go with it. What will temper the vibrant tone is a high-top marble table, brass pendants, and cabinetry in white with brass frames.  You can also choose to have a subtle green shade for doors and stools. The ebonized wood floor will add pure elegance to the picture.
10. Use Glass for Impact
The contemporary design uses glass extensively, and is often spotted in modern homes like high-rise condominiums. 
Not all kitchens are lined with windows, and many times, traditional architecture is a dominant feature in many homes. Glass can help you turn that around. For instance, get the upper cabinets in your kitchen fitted with glass doors and shelves. You can further the contemporary edge by keeping them open from the bottom.
11. Scandinavian Influence
Take a cue from Scandinavian design to create a kitchen that's simplistic but elegant. The design incorporates clean lines and no-fuss accents as the basic components, and furthers the minimalistic approach.
Keep the cabinetry simple for this one, and instead opt for stylish hardware. Other than this, a mix of wooden and lime green cabinetry with the black counters will also provide exciting consistency and add visual interest.