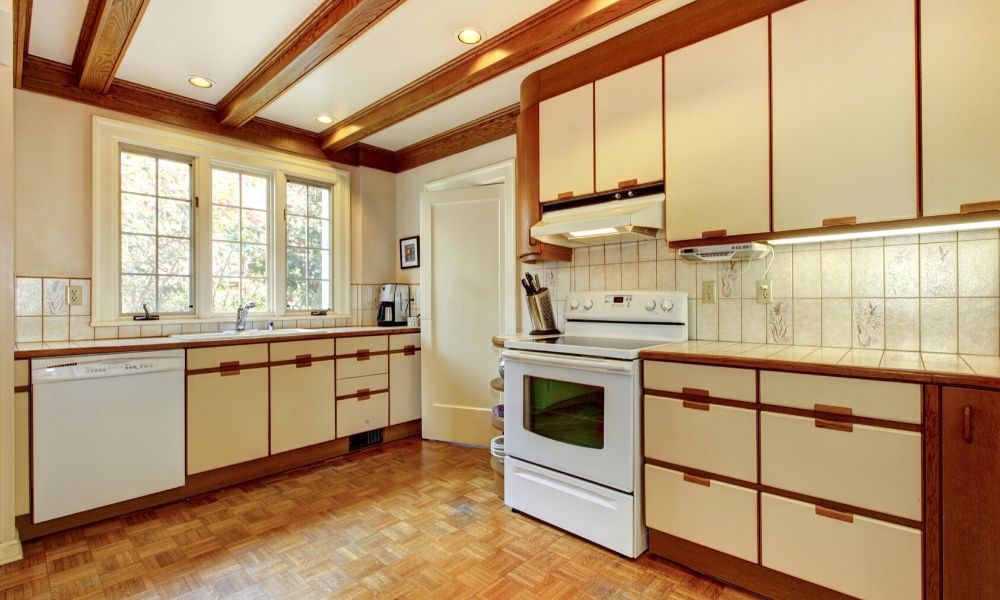 Have you been struggling for elbow room in your kitchen lately? Or are you beginning to notice that your kitchen is in a perpetual mess? No matter how much you clean it, it still looks dirty. There's perpetual grime on your countertop — a solid yellow patina that doesn't come off no matter how many fascinating Youtube Tutorials claim a solution of baking soda and a myriad of random ingredients will take it right off.  And even if you could lighten it somehow, what do you do about the musty odor that emanates from your grease-soaked cabinet doors?
You know what this points to, isn't it?  Yeah, you guessed it. Your kitchen is in need of a remodel. Besides the above, there are so many other signs to look out for that will tell you it's high time you did something about your kitchen.
When is it Time to Remodel Your Kitchen?
We realize that your kitchen is your favorite space in your home. Nevertheless, it can easily go on to become the most abused spot in the whole home too.
Do you find a perpetual mess of utensils strewn about on your countertop? Or when in the middle of sprucing up a meal, do you end up picking up your daughter's chemistry book instead of the Italian Cuisine book you were looking for?!!  We have all been there. Lack of space elsewhere in the house = kitchen island becoming a stack of brochures, keys, and yada yada.
The thing is: This can go from being 'mundane' to 'embarrassing' very quickly. Imagine someone pops over for an impromptu chat over coffee or your family gathers for the holidays, and instead of noticing the rustic feast you put together — they notice how shabby your kitchen looks.
These are signs that all point to a single fact: Your kitchen needs to be remodeled ASAP. Still not sure what else counts as a sign? We have listed it all down.
1. Poor Lighting 
Lights are amazing. They can spruce up the ambiance and create the mood almost instantly.
You shouldn't be fretting every time you start to cook because your kitchen is not as lit up as it should be. It should make your life easier and give you aesthetic pleasure. How do you prepare a decent meal unless you can spot all the essentials needed for cooking? Besides, it is super uncomfortable working in a space that doesn't receive a good dose of natural light. The problem worsens in winters when the natural light is sparse than ever.
You don't need to compromise when the solution is easy breezy. Go in for recessed lighting that will look amazing while also giving you enough light to actually go through the kitchen flow efficiently. Get a few sconces to go above each window for some added glamor or some pendant lights above the kitchen island, and voila!
2. Dishwasher Is Way too Small
Do you spend your day washing the dirty dishes, especially when the kids are at home or when friends drop in? If so, it's time to invest in a big dishwasher.
Chances are that your dishwasher has been there for the last decade or so.  Why the fuss now? That's because, probably, the problem has always been there and you simply got used to putting up with it…without realizing the difference a simple solution could make to your life.
Remember, the time you spend on cleaning the dishes and the trash can be used for better things.  Instead, why not spend some time with your family or soak in the tub or go out for a fun night with your pals? Life's too short to be cleaning all the time, right?
3. Other Outdated Appliances
Are you still saddled in with those extra large-sized appliances that take half of your kitchen counter space?
Please consider getting rid of them. No wait, send them back to the '90s where they belong.
Not only do they look weird in a modern kitchen's landscape because they are anti-clean lines and minimal design… but are also technically outdated. Moreover, the contemporary kitchen asks for concealed appliances that save up space in the kitchen and add a muted elegance to the space.
4. Damaged Cabinets
Is your cabinet door squeaky? On the extreme, it might be at a stage where it's scary to even open it at times because the cabinet door seems to be angling towards your head…all ready to land! Besides, what an eyesore, right?
Rusting hinges, peeling paint, ugly broken handles — are some of the signs that indicate the deteriorating condition of your kitchen cabinets and the impending need to take an action.
5. Insufficient Storage
Clutter in the kitchen is such a put-off.
But still, this is a classic situation. No matter how much you try and organize your kitchen top, it may find itself back there again. Most of us manage to convince ourselves that we have too much stuff in the kitchen… But do you realize you may be actually short on storage in your kitchen?
Just think about this. Has it been some time since you last remodeled your kitchen?  Both design and tech have traveled light years since then and you have an amazing range of modern storage concepts in every range available today. Sleek and contemporary, these set your kitchen's ambiance with a style and swag that hits your senses every time you step in, besides giving your kitchen ample storage.
Sliding units, carousals, mounted low shelved cabinets, drawers with organizing trays for cutlery behind the shelves, mounted hidden bins are some of the cool storage options you can consider.
6. Cramped Space
Do you feel like screaming internally whenever your kitchen is invaded by say two or more people?
You are probably dealing with the problem of cramped space like so many others. What you need is more elbow space that will give you enough space to move around comfortably.
The kitchen requires you to move from one spot to another continually. You need a decent space to move about without feeling claustrophobic. A kitchen remodel is what you need to get that extra space.
Your professional designer will guide you to all the possible options for opening up the space in your kitchen.
7. Leaks and Molds
Something is always leaking in your kitchen. Is that so?
Don't even think of compromising on this!! If you notice a musty odor lingering in the kitchen, you know it's a sign of mold. Besides, stains on the walls or on the ceilings, sounds of trickling or rushing water indicate a sure shot leak.
Leaks around the sink, paint bubbling on the walls, warped walls or a sudden splurge in the water consumption are signs of major plumbing issues that call for an urgent need of kitchen remodeling.
A damaged kitchen floor not only looks bad but is also super risky.
While you may think that its normal for a floor to be chipped or cracked, beware that the problem can grow worse with time. It's a sure sign that you need a change of flooring.
Besides, if you notice signs of water damage following a leak or a flood on your kitchen flooring, don't ignore the problem as it can lead to serious structural issues. This problem is frequently observed with hardwood flooring.
Anyway, you don't have to hang around waiting for potential damage to play havoc with your flooring. If you find that your existing flooring is worn and outdated, it's a good time to invest in new trendy flooring. A new flooring lifts up your kitchen's appeal in a snap!
An outdated, kitchen runs down your home's value. In fact, kitchens tend to define the true resale value of a home.
Newly updated kitchens are always more marketable. As you might know, no potential buyer wants to buy a house only to have to get a kitchen makeover before moving in it. Even if you aren't planning to sell a home, homeowners take pride in knowing that their home is of value. Keep in mind that a high-quality kitchen increases property value, and so you should do something about the problems in your home.