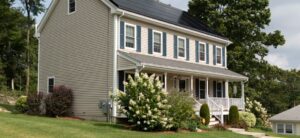 When a senior couple listed their Falls Church home for sale, they had no idea that there'd be a fierce fight between bidders trying to pick it up from the market as soon as possible. Now as a result, they are sitting on a pile of cash that's much taller than they asked.
Earlier this month, the couple decided to sell the Walnut Street property that they called home for four decades. Through their agent, they advertised it for $799,000. The bidding process, however, turned out much better than they imagined. The four-bedroom house sold for $969,412, a whopping 21.3% higher over its list price. It drew in 30 offers from potential buyers in a single day.
The mystery, though, is that the same property was worth about a $100,000 less according to real estate brokerage Redfin. Why, then, were there so many people willing to pay the extra?
Amazon HQ2 Effect?
One theory relates that high interest to the fact that the house is only a few minutes away from National Landing, site for Amazon's second North American headquarters (HQ2).
The 'HQ2 Effect' is long a subject of many discussions about the region's property market. That it'd offer a total of 25,000 high-paying jobs when it's complete by 2025 has had many people anticipating a price jump for homes and offices nearby. So, it's not without good reason why it came up this time, too.
Lack of Supply?         
Realtor Stacy Hennessey, who represented the couple in the transaction, however, isn't a big believer of that approach. Hers rather focuses on the supply side.
She says there haven't been many local properties up for sale this time of the year and that's why her clients have received a huge payout.
Describing the 'HQ2 Effect' as a "self-fulfilling prophecy" in a February 24th report, Hennessey advised willing sellers and buyers to pay attention to timing instead. According to her, there will be a higher inventory soon as more properties become available in the spring.
In Falls Church, the median property value has become $742,000, about 2.5% higher year-on-year, latest Data USA figures show. In neighboring Arlington and Alexandria, the same figures are $643,000 and $537,900.
Multiple listing service Bright MLS says home sale price in those three places collectively rose by 4% from $590,582 in 2018 to $614,236 last year. The Northern Virginia properties also sold much faster. The number of days they stayed on the market fell from 55 to 24 in the same period.