A bike share service covering multiple locations across metropolitan Washington has added the city of Falls Church to its areas of operations.
With the May 8 opening, the Capital Bikeshare is now offering a low cost and environment-friendly ride with bicycles for rent to visitors as well as residents in a wider region, from Maryland to Virginia, on the East Coast.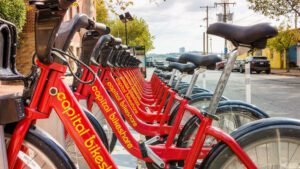 In Falls Church, the news has stirred much happiness. "We are excited to be connecting to the regional network," said the city's Communications Director Susan Finarelli before Wednesday's opening. She added that they are going to celebrate the expansion with an official ribbon-cutting ceremony on May 13.
Capital Bikeshare already operated a fleet of 4300 specially designed bikes at more than 500 stations in Washington, Arlington, Alexandria, Montgomery, Prince George's County and Fairfax County. With Falls Church, it has added 11 more stations and nearly a 100 bikes to its network.
Six of the 11 Falls Church stations are either on Broad Street or located just one block of it with the remaining five are on outermost corners of the city from West Falls Church metro station to N. Roosevelt Street.
Riders are required to become a member online or buy a short-term pass at a kiosk to use the Capital Bikeshare system. And once they do that, they simply find a docking station nearby, unlock the bike of their choice, have their ride and leave the vehicle by locking it again at the station most convenient to reach from their destination.
The system has a mobile application for both iOS and Android users where they can sign up, load credits, monitor their activity and balance.
$2 for a single trip; $85 for a year's ride
At Capital Bikeshare, a single trip shorter than 30 minutes costs $2 while a daylong pass, ideal for tourists planning rather longer excursions, is available for $8. The price of a 3-day pass is $17.
Those preferring even more extensive privileges, however, should purchase an annual membership, which offers unlimited number of trips less than half an hour, for $85. An equally lasting yet more flexible choice is a Day Key, which can be bought for $10 for the first day of ride and re-activated for $7 for any extra day.
Usage fees apply for trips that are longer than 30 minutes. That is, $2 for the first extra 30 minutes, $4 for the next and $8 for the each one that follows. Day Key holders receive a 25% discount on usage fees.
Regardless of their engagement to the system, all users are required to ride with other vehicles on the roads, obey all traffic rules like yielding to pedestrians and perform hand signals to announce the turns they are about to make for the rest of the traffic.
The system is available 24 hours a day, every day of the year. It is operated by Motivate, which manages all of the largest bike share networks across the U.S.