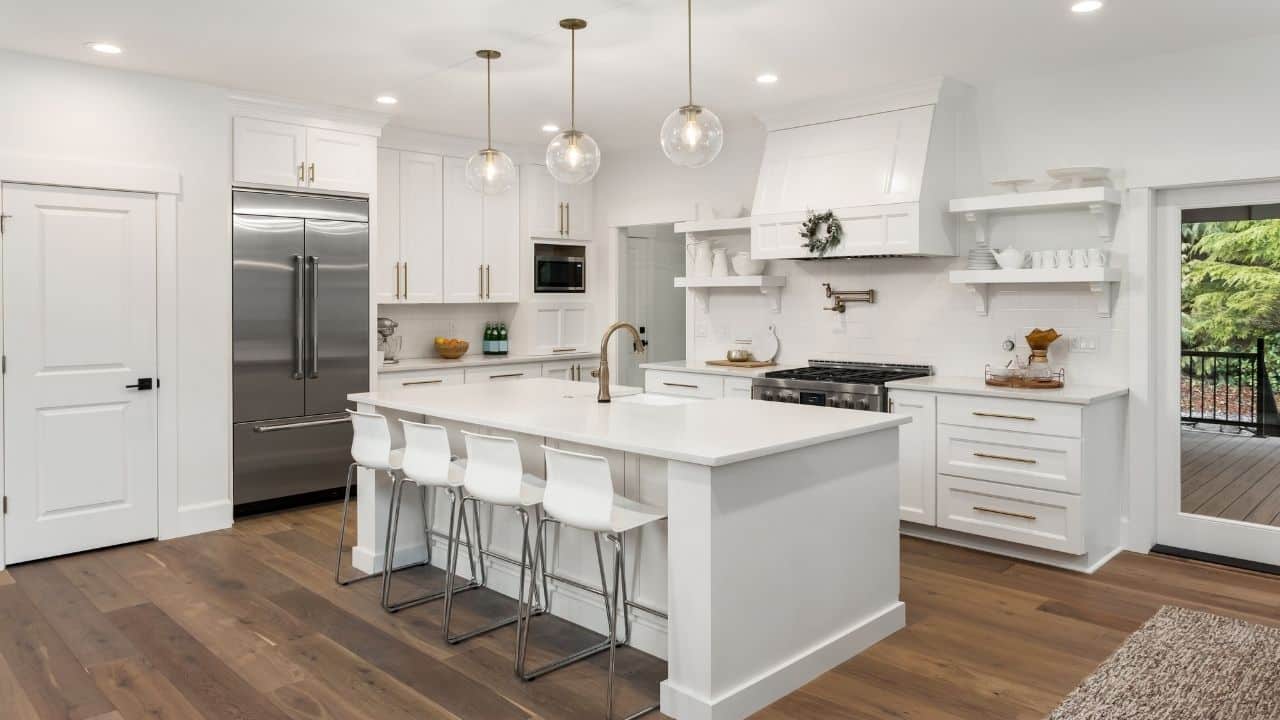 If you are looking for a precise estimate of kitchen remodel costs, well, it isn't possible. The primary reason is that remodeling professionals cannot issue kitchen remodeling estimates without being on-site. However, when a contractor gives a rough estimate off-site, other factors get introduced, and everything starts to fall into place.
On average, a kitchen remodel costs $150 per square foot. Along with that, most homeowners spend between $13,500 to $37,550 on average. However, the total expenses vary depending on the size of the space and the quality of materials.
While a smaller kitchen remodel project costs between $10,000 to $15,000 that includes the painting of walls, refacing of cabinets, and installing a tile backsplash. On the other side, a complete full-scale renovation would cost $50,000 and above.
Don't Rely on Cost vs. Value Reports
Homeowners interested in a kitchen remodel usually estimate by referring to the Cost vs. Value report issued every year by Remodeling Magazine. In that magazine, costs across the nation and region are mixed to produce generalized numbers that offer average kitchen remodel costs.
Of course, the Cost vs. Value report is valuable; but it excludes your thoughts and processes. Hence it is just too easy for homeowners to get an estimate from this report and think that that's all they need.
But you have to take a more measured approach regarding kitchen remodel costs, instead of insisting on those single numbers. You need to look after various cost estimates in your head and intersect the data with what you can get for that price.
Average Kitchen Remodel Costs
Starting costs = $18,000
Standard price range = $25,000 to $40,000
Premium price range = $50,000 to $100,00 and above
Size Matters
Although these figures are just averages, it is equally important to note that your kitchen's size can significantly affect renovation costs. It could cost as little as $5,000 for renovating a small kitchen, and $60,000 to undertake a luxury or full-scale renovation.
| | |
| --- | --- |
| Size [Square Feet] | Average Cost |
| Small [<70] | $5,000 to $20,000 |
| Medium [100-150] | $15,000 to $40,000 |
| Large [200+] | $30,000 – $60,000 and above |
What To Expect At Various Price Points
Here's what you can anticipate for your kitchen at various price points:
In the range of $10,000 to $15,000: you can reface cabinets, repaint walls, walls, improve the sink, and add in a tile backsplash.
Approximately $21,000, but not exceeding $30,000: you can choose to upgrade cabinets, countertops, wall paint, sinks and faucets, and backsplash in your kitchen.
More than $30,000: This price includes everything, even flooring, and appliances. You might potentially make do with fewer modifications but higher-quality materials.
The majority of homeowners spend around $12,710 and $33,017 on a kitchen makeover.
Evaluating The Kitchen Remodel Costs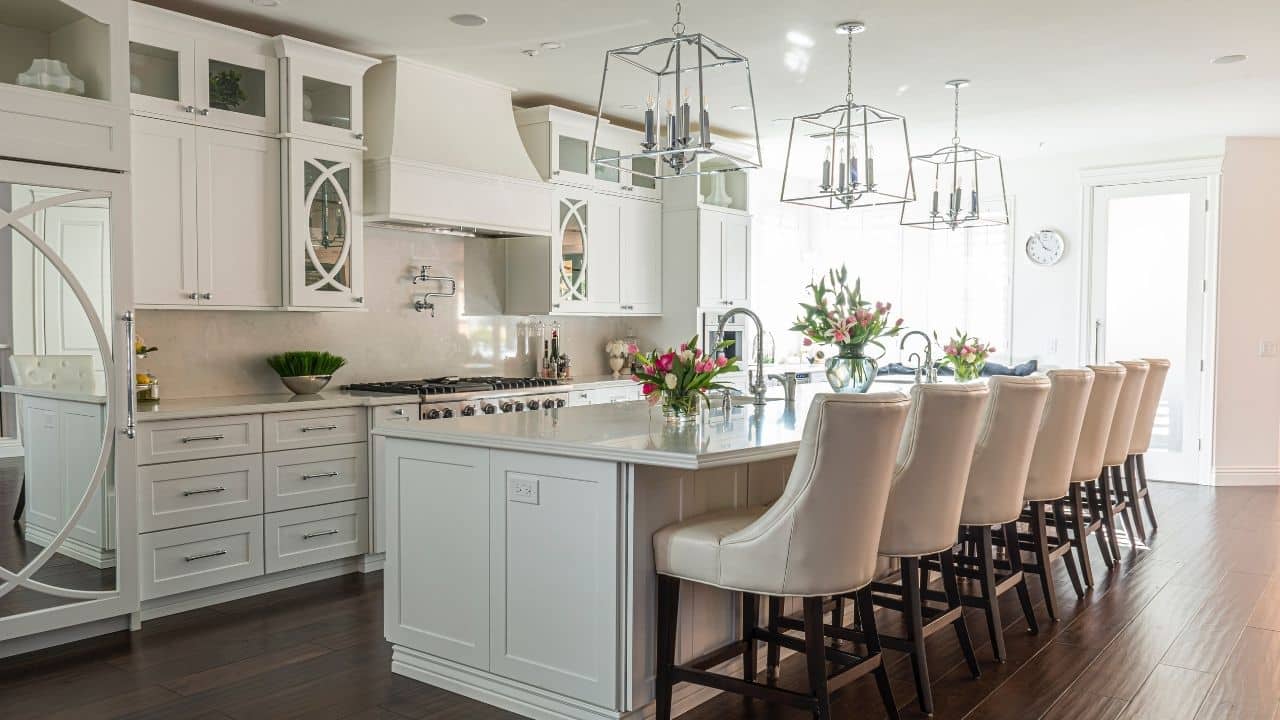 The first step is to figure out how much your kitchen redesign will cost. You may end up blowing the wallet if you don't have a clear budget. So, while you plan on having your cabinets refaced or replaced, think about the bigger issues.
For example, what are your goals for your kitchen renovation? Are you looking for a way to boost the functionality of your computer? Or perhaps you'd like to enhance the quality of the products you're using? Do you require a change in the structure to better meet your personal needs?
These types of questions will aid in determining the extent of your renovation job. Knowing where the rest of your funds will go is critical. You might decide that stainless steel appliances and granite stone countertops are a must-have.
This may reduce the amount of money available to replace your cabinets. Alternatively, you might have them professionally refaced. While determining the cost for your new kitchen decor, have clear dialogue and be reasonable.
Kitchen Remodel Cost Breakdown 
29% Cabinetry & Hardware
17% Installation Charges
14% New Appliances
10% New Countertop
7% Floors
5% Lights
5% Ceiling and Walls
4% Windows and Doors
4% Design Fee
4% Plumbing
1% Miscellaneous
Things to Consider Before a Complete Kitchen Remodel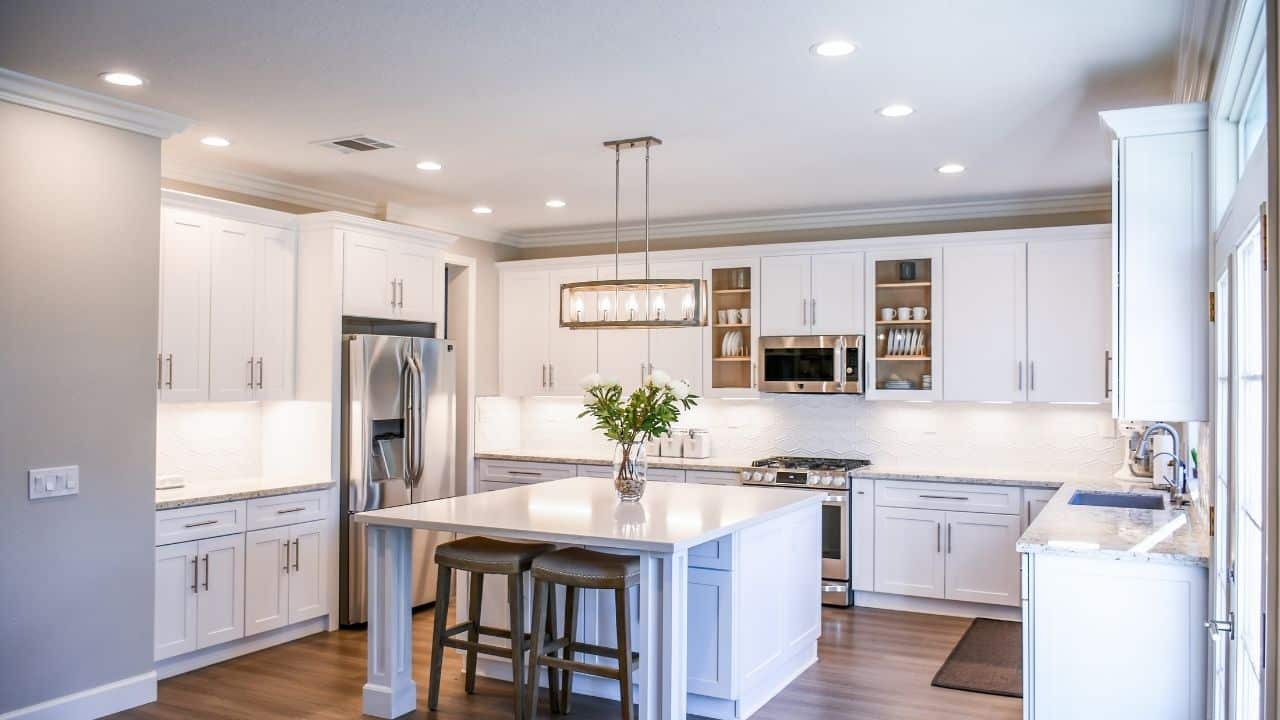 Before you start thinking about aesthetics like design and tiles, take a look at the space you have and consider what you want from the space. After that, you must know how you want it to look and function. At last, configure the size.
Budget and Resale Value
Once you have considered the things mentioned above, you need to ask yourself how much you're willing to spend. If you think you will sell up and move one day, it is crucial to keep your home's resale value and the ROI in mind while considering kitchen remodel costs.
Besides, you should ideally spend nearly three to eight percent of the home's value on a full kitchen remodeling if you want to make a profit when the time comes to sell your house. Consequently, with average house prices in the US standing close to $250,000, a homeowner can typically spend around $20,000 on a kitchen remodel without impacting the resale price.
If Budget is a Constraint
In case you don't have a budget of that size but still want to refresh your kitchen, there are still some alternative options available. You can reface or refinish your cabinets instead of replacing them. Further, you can refinish your appliances, but only if they are outdated. Nevertheless, you can replace or refinish things in stages rather than doing everything at once.
Design and Layout Process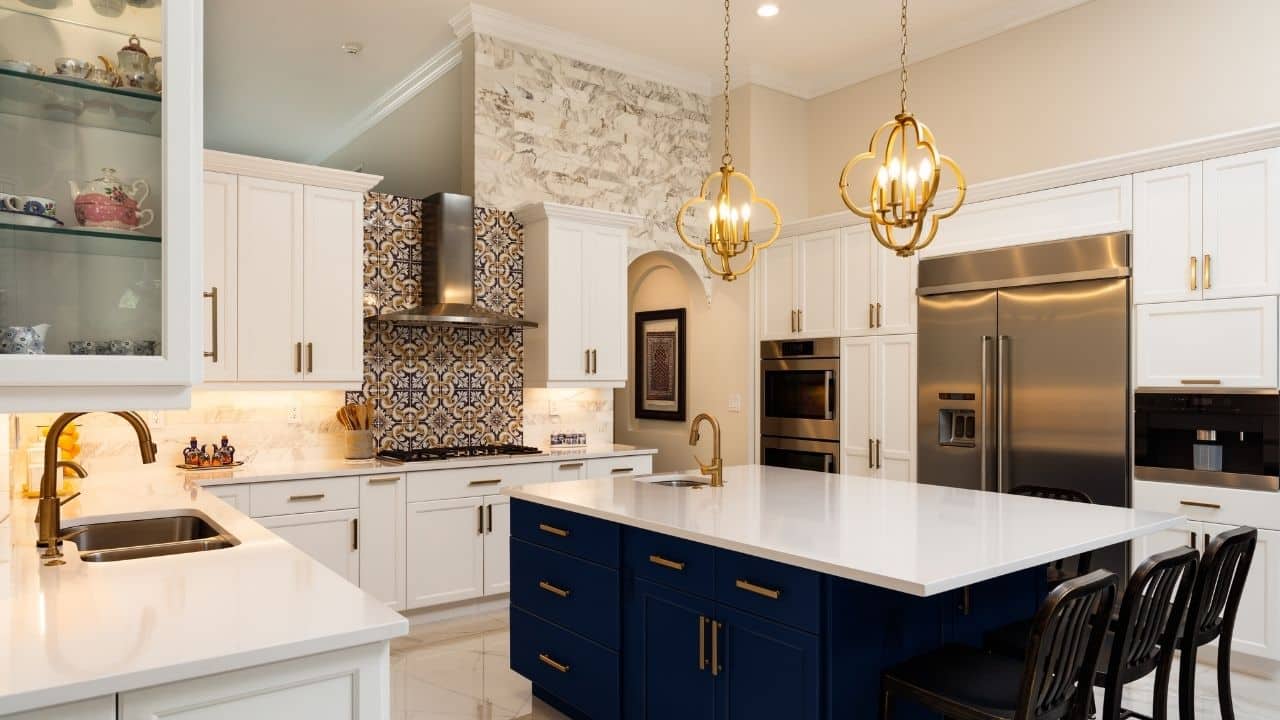 Suppose you are looking to alter the layout dramatically. In that case, you should expect a base cost of at least $30,000 because you will need to engage a registered contractor who will file a permit application with your local council. Furthermore, proving that the new space will be compliant with the building codes and laws is also necessary.
The cost implications of changing an existing framework and footprint will incur additional labor and material charges. Along with that, design and permit filing fees of around ten to fifteen percent will also add up to the total project value.
Key Considerations of the Layout
In most cases, the size and shape of your kitchen will determine the most suitable design. However, it is always helpful to consider the classic work triangle when thinking of the layout. This concept is designed to minimize effort and walking distance between the stove cooktop, sink, and refrigerator.
Moreover, this approach works great with most kitchen layouts, although, if you have to run for all the appliances and sink, you may need to flatten the triangle. To do this, you have to position the three points in line with few steps to walk in between.
Material and Labor Costs
Your kitchen remodel costs have three essential parts: cabinets, benchtops, and detailing. Apart from the base material costs, you will also have to consider the labor costs involved
Cabinet Costs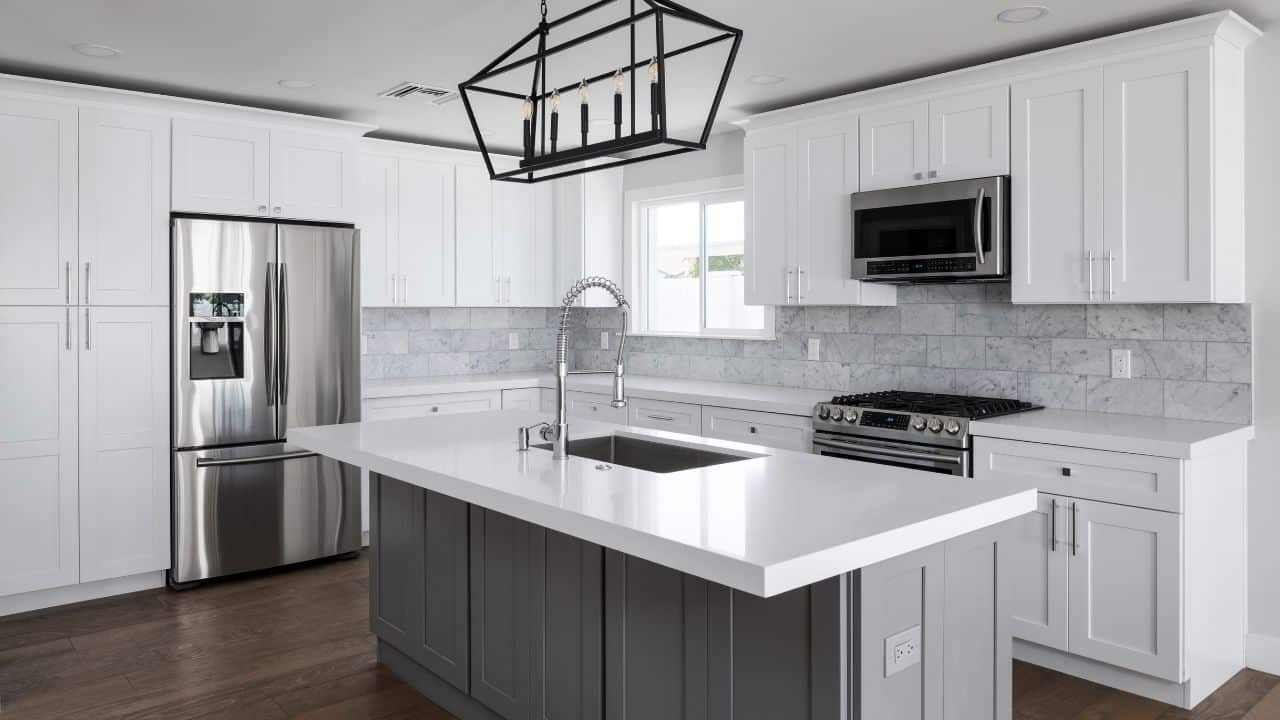 Cabinets are the game-changer in terms of the overall look and feel of the kitchen. It's of no surprise that they eat up around thirty percent of the total budget and are the most expensive part of a kitchen remodel.
You can buy stock cabinets off the shelf at home centers that typically start at $80 to $400 per cabinet. Further, semi-stock cabinets that are of higher quality cost around $150 to $1,000 per cabinet. Now, if you want a complete custom cabinet, you can expect to pay approximately $500 to $1,500 per cabinet.
Benchtop Costs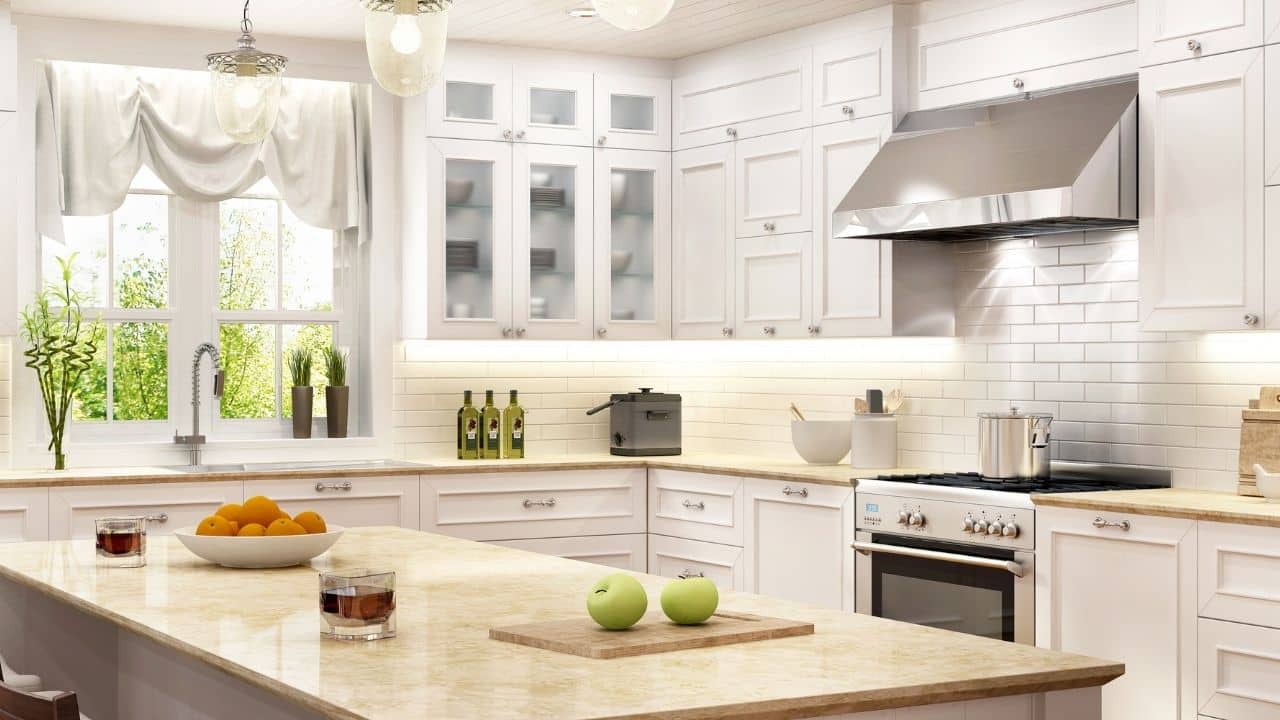 Benchtops typically account for approximately ten percent of your total budget. Material costs range dramatically per square feet, and the style of the edge you choose of the counter also bulks up the cost.
Detailing and Final Touches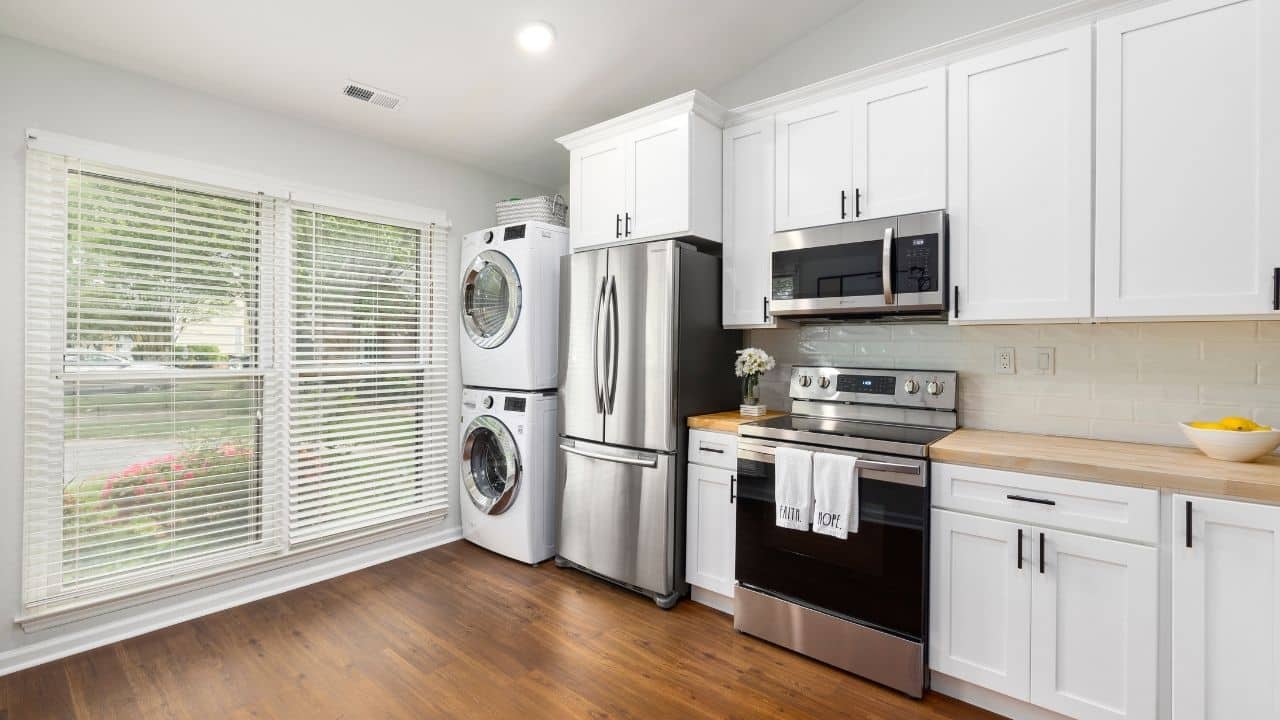 Once the significant expenses are settled, the real style comes in detailing or final touches. Appliances can take space, so budget around $1,000 to $5,000. A tile backsplash is excellent, and the options are endless; however, the average backsplash costs around $1,800. Interestingly, kitchen lighting makes a huge difference, and recessed lights cost around $150 each to install.
Labor Costs
Even if you are just remodeling fixtures in your kitchen, you need to consider labor costs. Moreover, it's essential to plan unexpected costs as well. For instance, if the wall tiles are removed, you may discover that plasterboards require maintenance. In this case, it will cost around an average of $2,000 to strip off the space before installation.
Finally, set aside ten percent of the total kitchen remodel costs for your budget for any unexpected problem that arises during the remodel. This money is your insurance to help you cover those extra costs for mending the termite damage and plumbing leaks. Sometimes mold, when you rip off your old cabinets.
How Can You Finance Your Kitchen Remodel?
Once you've understood the different aspects of kitchen remodel costs, you also need to figure out how to finance your kitchen remodel.
For instance, you can leverage the equity of your home through Home Equity Loan (HEL) or Home Equity Line of Credit (HELOC) to finance your kitchen remodel.
If you don't want to do that, you can also opt for contractor personal financing or secure a personal loan from a bank.