Are you tired of looking at popular kitchen trends and pinning those dreamy features? With the ever-changing trends and styles in the remodeling industry, it's tempting to make a few significant changes to make your old kitchen. A kitchen remodel also costs big dollar bills. However, with the right budget kitchen remodel ideas, you can give your old kitchen the face-lift it needs and save some money while doing so.
There is so much information on remodeling your kitchen on a strict budget that you'll want to get started right away. So, let's break out those overalls, pull the tools out, buy beautiful fixtures, and get ready because these budget kitchen remodel ideas will get you rolling.
Budget Kitchen Remodel Ideas
Map Everything Out
Kitchen remodeling is a great way to add value and create a space you love. We live in a world where all your kitchen inspirations are just a click away. This process makes planning and executing your dream kitchen easier than before.
Let's get down to the planning bit. We all know a kitchen remodel isn't cheap. The best way to get things working is to gather your thoughts and map out what you want, where, and how. Is it a major renovation or just a small upgrade? How much do you want to spend on tiles and floorings? Where will you get the best-priced materials? These are the questions you should ask yourself before truly starting any of the remodeling jobs.
In addition to this, research everything; online and offline. Look out for exclusive deals and discounts. Price out various remodeling ideas and get advice from experts before you start. Get multiple quotes from contractors and designers and compare before you settle with one. There's one thing more important than all of this- Have a clear plan and even more transparent budget. This will help avoid mid-project changes and budget mishaps.
Similarly, prioritize what you need to do and when and stick to it. Don't get caught up, remember less is more and take a step back from making hasty choices. You can achieve your dream kitchen efficiently, even on a budget.
Refresh Your Cabinets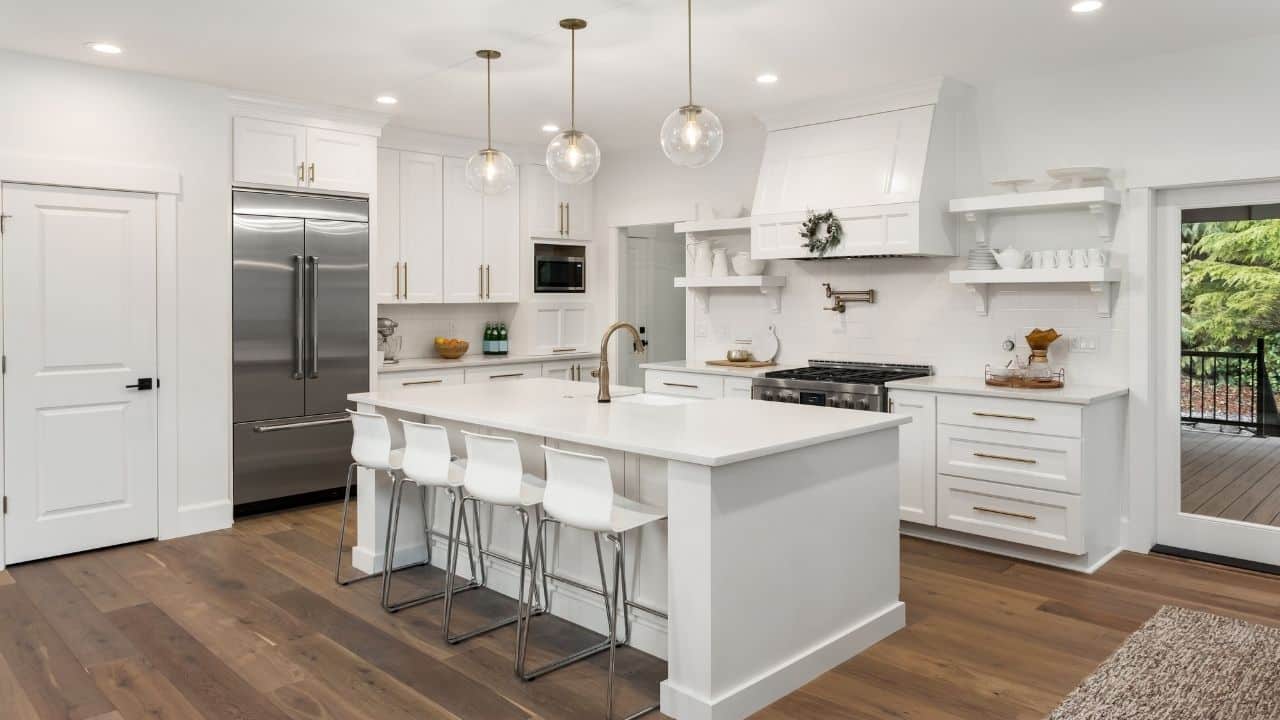 New cabinets can give your kitchen an instant upgrade but they come at a cost. The average cost to install new cabinets is roughly $3,000, with most homeowners spending between $1,000 – $3,000. But, since you're on a budget, it may be best to stay clear of it.
Instead, refinishing the existing cabinets and hardware is a great way to provide a new look and feel. Opt for stainless semi-gloss paint to add elegance and style to your old cabinets. Mainly it's the cabinet doors that need some upgrades. A low-cost way to do so is to purchase new veneers from a manufacturer instead of everything. This is called refacing the cabinets. It's a bit costlier than repainting but makes your old cabinets more sturdy, durable, and provides longevity.
You can spruce them up by adding new hardware such as knobs and pulls, so they look and feel brand-new altogether. These pieces range from $2-$20, depending on the style you pick.
Change Styles not the Layout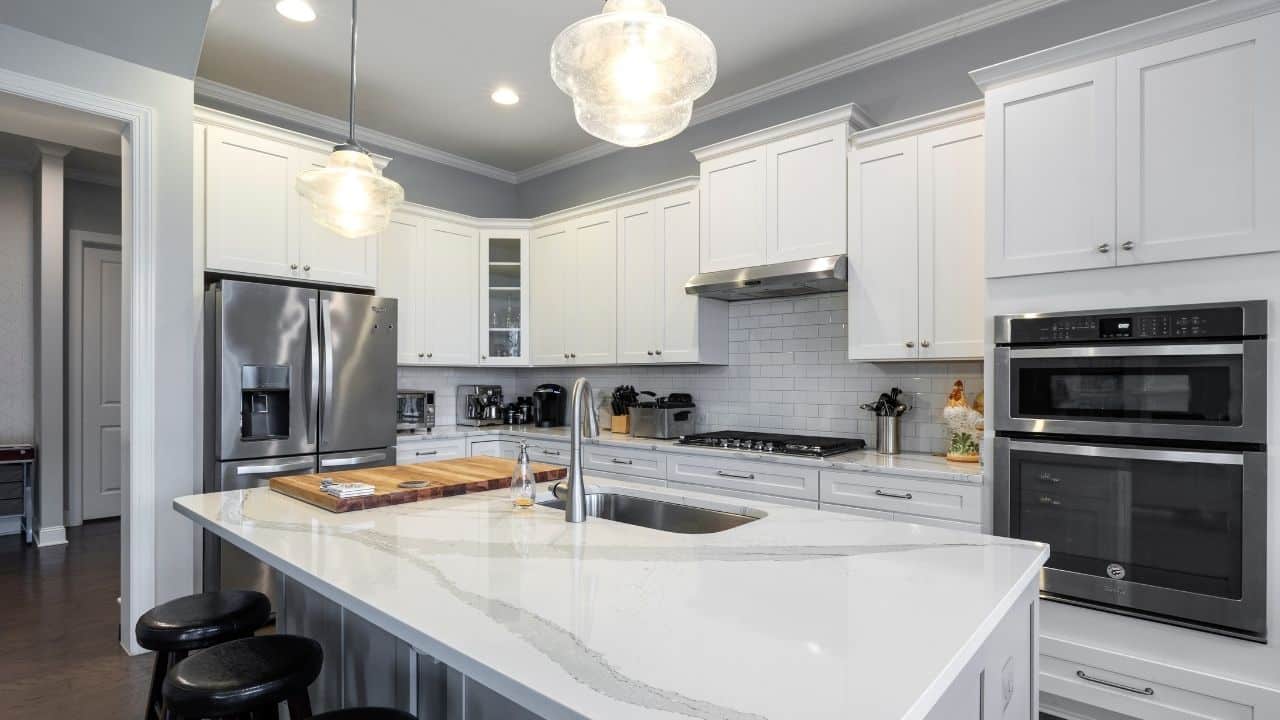 Changing the kitchen layout will surely drive up your remodeling budget. Dramatically, shifting plumbing and wiring for the refrigerator, sink, dishwasher, and other appliances entails more labor work than cost-effective DIY. In addition to labor, the cost of materials and new pipes will also hike up your budget in spades.
One great way to solve this – is by keeping the kitchen layout while upgrading each element within that framework. This would save you from adding new plumbing or electricals. Also, one can observe the existing appliances, floorings, and work-flow. It is incredibly cost-effective too. By doing this, you'll still be able to achieve a brand-new kitchen in your desired budget.
Don't Shy From DIY
With more and more DIYers, it's common to think of doing most of the work yourself. Even with less expertise, you can still manage to get the basics going. If you're eager to learn, a quick Google search will provide endless articles and videos on doing a primary paint job or fixing appliances. The possibilities are endless. These DIY projects will also bring down the labor costs down significantly.
So, what DIY remodeling projects can you take on? If you're a beginner or have intermediate expertise, you can easily paint the floors, kitchen walls, install light fixtures, affix shelves, replace faucets, among other jobs.
It may seem intimidating at first, but you'll be nailing the projects week after week once you get its hang. One tip to remember is asking hardware store employees on specific products and materials while you purchase them. They are the real experts here, and they'll provide you with some quick and easy tips to get started on the task at hand.
Stencil Those Tiles
Tiling can get very expensive, real quick. Field tiles and vinyl tiles are cheaper than designer tiles, but when you look at the low-cost tiles, they look blah. How do you still add that modern, rich aesthetic to your remodel?
Start painting!
Be it mosaic or colorful patterns, you can do them easily. Purchase a stencil of your liking, choose the colors, and get started on those dream tiles with a little prep-work. Doing this will free up your budget for extras. It will also take less time than re-doing the tiles entirely and will be a fun experience for you and your family.
Understanding Budget Kitchen Remodel Ideas
If you still can't put those dollar bills to action, one way to remodel your kitchen is to do it in stages. Break it up in chunks that are manageable and start with small changes leading to a significant remodel. This will give you more time and make room for more money.
You'll also be able to live with these changes and see if they function well over time. This will give you a better understanding of your new, improved kitchen layout, and you can then plan on what you'll be doing next.