Your basement might be your go-to place to store those extra boxes full of holiday decor, photographs or toys right now, a basement remodel might change the way you utilize it and unleash your space's true utility. Some modifications and tweaks can even turn this space into your most favored spot in the entire house.
We understand that a home remodel can be a costly affair and leave you overwhelmed–but understanding how to utilize this valuable space without denting your wallet can significantly improve the quality of your life. This space can double up as a private theatre, game room or even a space to just get away for a few hours. Follow this guide to help you plan your basement remodel in accordance with the basement trends of 2021. Our tips can spare you plenty of headaches and save you money.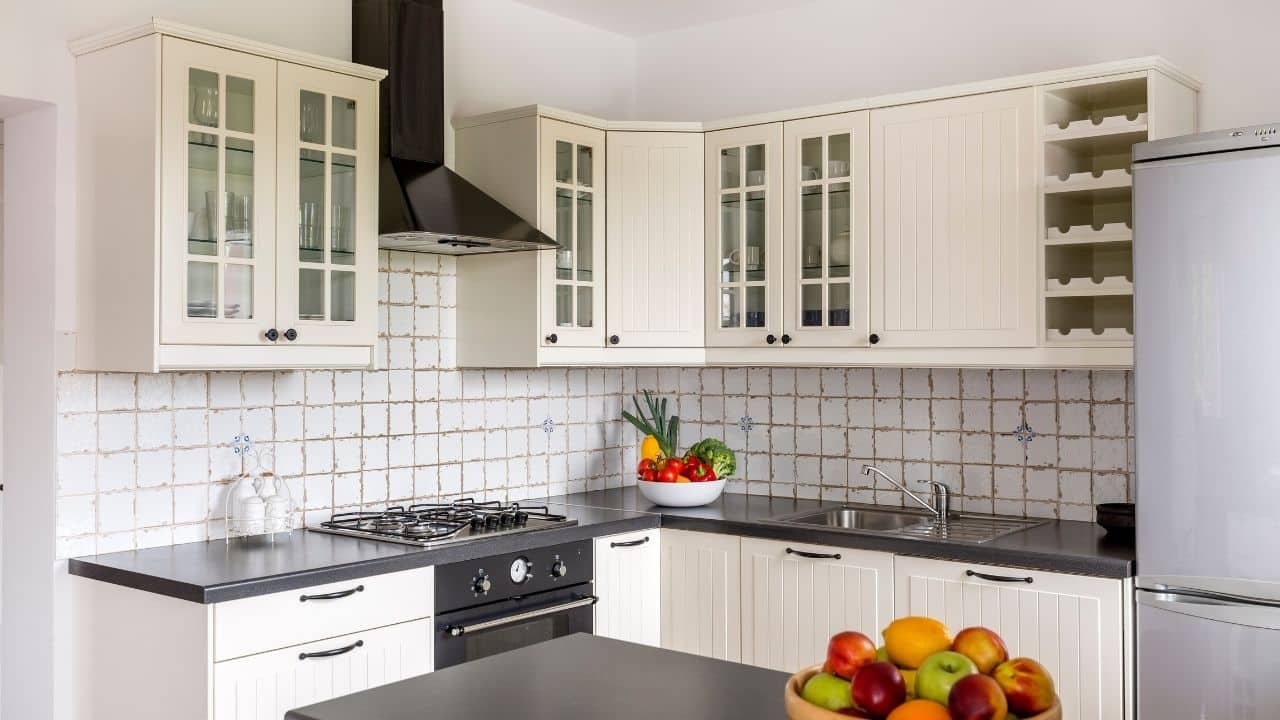 Planning Your Basement Remodel
The first thing to do before you get started on your remodel is to understand how much time the process would take. You should also speak to a professional basement finishing company to understand the costs involved. Before you do that, you should also evaluate your financial standing and allocate an adequate budget for the remodel. A professional basement finisher could help you design the floor plan and understand the logistics. Although the renovation company may be of help, you should first analyze your own vision for the place. This would depend on the needs of your family and the motivations behind the renovation itself.
Designing Your Space According to the Needs of Your Family
Unless you have huge piles of cash lying around, chances are that you would not want to spend heavily on things that you can avoid in a basement. Although a minimalist basement might be ideal for some homeowners, it might be an unsound idea for others. Try to evaluate what your above-ground floors lack and take it from there: if it is a dedicated gaming room that you are looking for, prioritize that. If you don't have enough space for the guests, consider making this a space for them. Man caves and woman caves are huge in basement remodel ideas for 2021. It is very important that you understand the needs of your family in order for the basement renovation to be successful. Having a clarity on these helps the designer and the basement renovator company to create an effective floor plan within a sufficient budget. A good basement remodel should ideally have a mix of both aesthetics and functionality as nobody wants to be in a space unless it's welcoming.
How to Create an Effective Basement Floor Plan
Based on practical reasons, it makes a lot of sense for the game room or the socializing area to be in a spot that's brighter than the rest. An area that gets the most natural light is perfect for a welcoming vibe. If that's not feasible, center of the space could be assigned for this area. The TV should be put away from the light as you want the least amount of glare coming off of it. Alternatively, a dedicated movie room can be made in the darkest spot of the basement. For bedrooms, we recommend the perimeter because windows would need to be placed. We recommend storing some food in the other corner of the space so that you can access the pantry without crossing the TV.
Things to Consider While Creating a Floor Plan for Your Cozy Basement 
Follow our tips and trending designs to make your basement stand out both aesthetically and functionally.
Keep the Temperatures Warm: Basements can be quite chilly, especially during winters. As you want your space to be more inviting, you should definitely invest in a thermostat. Consider getting a fireplace that is connected directly to the direct-vent gas unit. You do not want to be carrying firewood down the flight of stairs. If your floor can get awfully cold as well, consider getting radiant mats.
Have a Dedicated Area for Food: Food is not only the highlight of social gatherings but snacks are handy even for some time by yourself. Although there is no need to have a full kitchen (unless you want to), a minibar can be placed close to basement cabinets to hold snacks and beverages. Next to the cabinet, you could even have a microwave to heat up pizza for game nights. Dirty dishes can be transported to the main kitchen in a spare tray.
Have a Dedicated Area for Gaming: Not only do you need gaming tables, but adequate clearance as well. We recommend putting a worktable that can be used for group activities like board games rather than a big table that can be enjoyed by an individual or handful of your guests. If you are more into video games, consider the clearance required for that too as a lot of those require physical movement these days.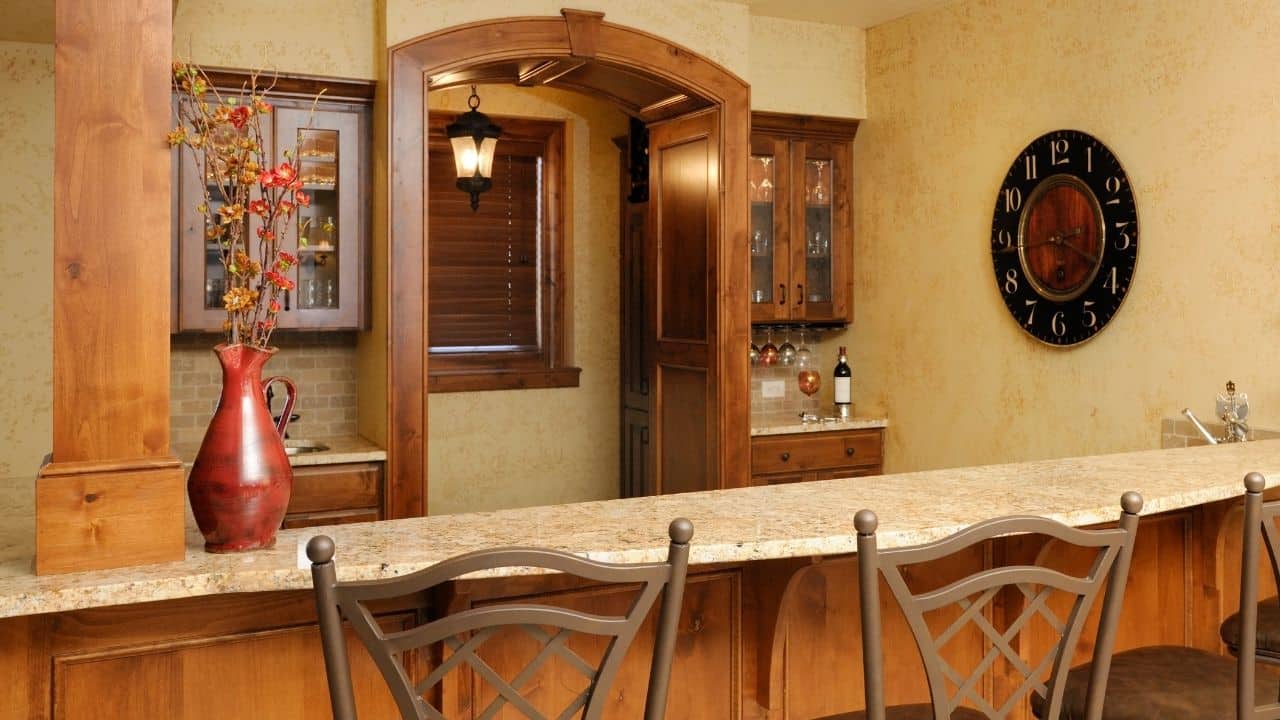 Design Trends You MUST Follow in 2021 
Invest in Stylish Storage Solutions in Your Basement: Basement cabinets are the star of the whole aesthetic. They immediately catch attention and set the tone for the whole space. Hence, you do not want to be stingy with your spending on new cabinets for your basement. Consider some of the new cabinet finishes in unique colors like velvet blue for that luxe look. If you want something wooden, oak wood can be considered as it is huge this year. A built-in positioned to hug the stairway can be used for coats and shoes.
Put up Those Lights: As basement is already prone to receiving less natural light than the rest of the house, you have to put up a lot of fixtures to brighten up the place. A badly lit basement is not welcoming at all–and can take away from the enjoyment of the space. You don't need those fancy pendant lights like you do for your kitchen–just keep it basic. Get a lot of utility lights instead. Recessed cans spread across the room can be an excellent choice.
Ditch Those Old Window Wells: It's time to move away from those ridged metal surfaces as window wells. We want something more durable and safer as we don't want children accidentally falling into the well. Fibreglass or faux-stone materials are excellent for use as they can be covered with plastic covers for extra protection. Get your renovator to fix the covers properly though, because loose covers can cause trouble.
Ditch the Ceiling Paint: Hung ceilings are picking up as ceiling tiles become popular for basement remodels. To add some variety, you can skip the vinyl or wooden planks and go for those instead. Do consider the headroom though as not all basements have enough space to accommodate a hung ceiling. Your renovator may be able to suggest solutions if you decide to get one anyway.
Use Coordinated Furniture: Even if you are on a tight budget, try to at least harmonize the colors of the furniture with each other. You don't want to end up using a bright red couch with a pink chair. Keep it minimal but well-matched as you want the basement to be a place you truly want to spend time in.
Tip: Design a Quiet Basement: Whether it is the sound of enthusiastic football cheers or loud music, nobody needs to know what happens down there. The biggest trend is privacy in the modern century and we couldn't recommend soundproofing more as a final basement finish. For the floor, a wall-to-wall carpet can help.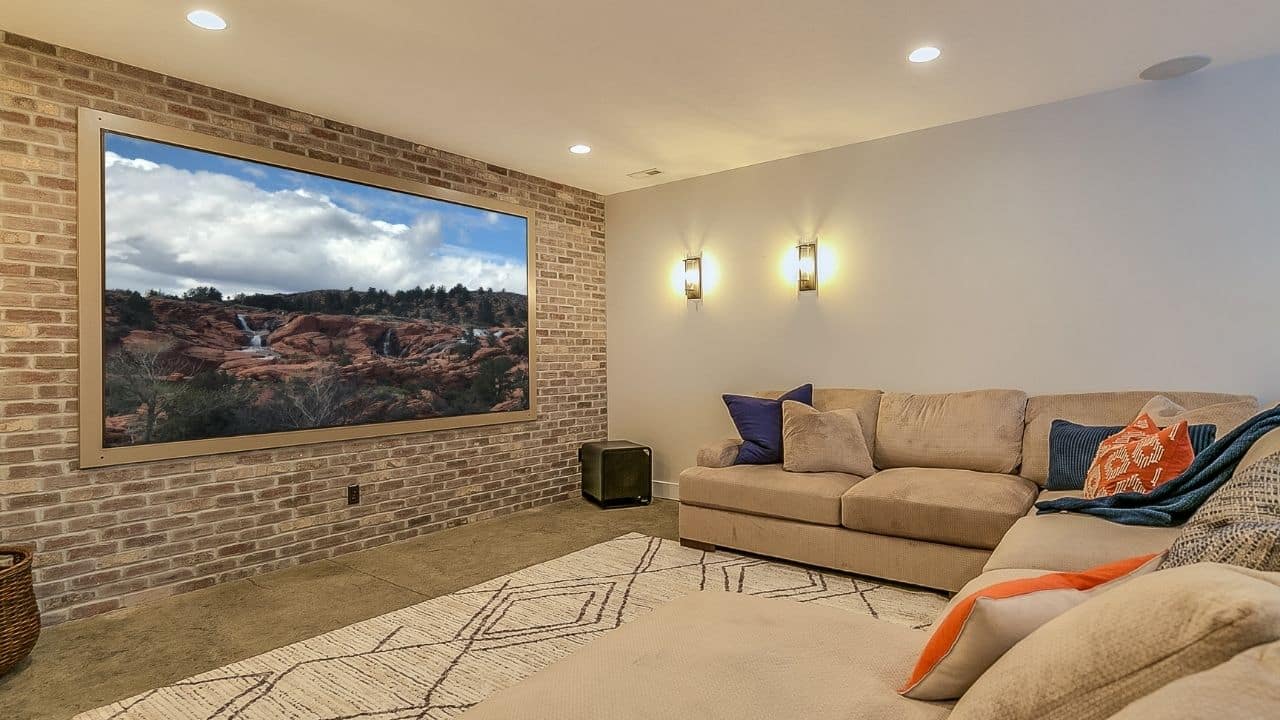 What Happens Before the Remodel Starts: Final Preparations
As mentally prepared as you might be, it is important to understand the process of basement renovation. Some preparations might be needed before the work even starts. It is a good idea to get a professional to test the moisture in the space weeks before. As a preparation step, a professional basement renovator would tape plastic sheeting to the floor to see if condensation forms within the next few weeks. If it does, dehumidifying measures would be needed. You must also get a HVAC contractor to check if the ventilation system is in place to avoid dangerous levels of carbon monoxide. It is important that you do not attempt to do this on your own as neglect can lead to serious outcomes later. A one-stop basement company like Dulles would spare you the headache of going to different service professionals and cover all of that while also inspecting the place for insect damage.
Waterproofing Your Basement Correctly
It is pertinent to the aesthetic and strength of your walls that you get waterproofing done in your basement. The last thing you want is mold forming on the walls after a remodel. Get a professional basement finisher to do the task as it can be quite complex. Some cases might require the installation of water diverters that send waste-water away from the foundation, while others may require inspection of cracks in the plumbing systems.
Tip: Get new-age Vinyl flooring instead of the wood as it is much more resistant to both water damage and wear and tear. It looks quite natural like the wood too.
Adding Partition Walls in the Basement
As basement tends to be a wide open space, sometimes it might be necessary to use partition walls to separate areas from one another. They differ from other walls in the house and are often much cheaper to build as they do not have to support the weight of the entire house. Instead, they just act as room dividers. We recommend not going overboard with those though as the space can look very cramped up. Use them only as needed. Some homeowners put half-wall dividers to allow natural light to come in. That can be incredibly useful in livening up the space. Sliding doors and movable screens can also be used to allow you to choose privacy on a discretionary basis.
 Tip: Basement can be prone to damage from moisture and you should do your best to use materials that avoid it from becoming a breeding ground for growth of bacteria and mold. You can ensure even more hygiene in basement walls (besides waterproofing) by using interior panels made of Gypsum. These interior panels are resistant to mold growth and can be a great investment for the basement walls.
Bonus Tips: Things to Always Keep in the Basement
If you have followed our tips during the remodel, congratulations! You will be enjoying your basement for a long time. We recommend storing these few things in the basement for further fulfillment: a flashlight, a cell-phone signal booster, a wireless-extender and a small vacuum cleaner. As great as a basement might be, you can have network issues, power outages and even water spillage. It helps to have a few things handy to make the experience smoother.