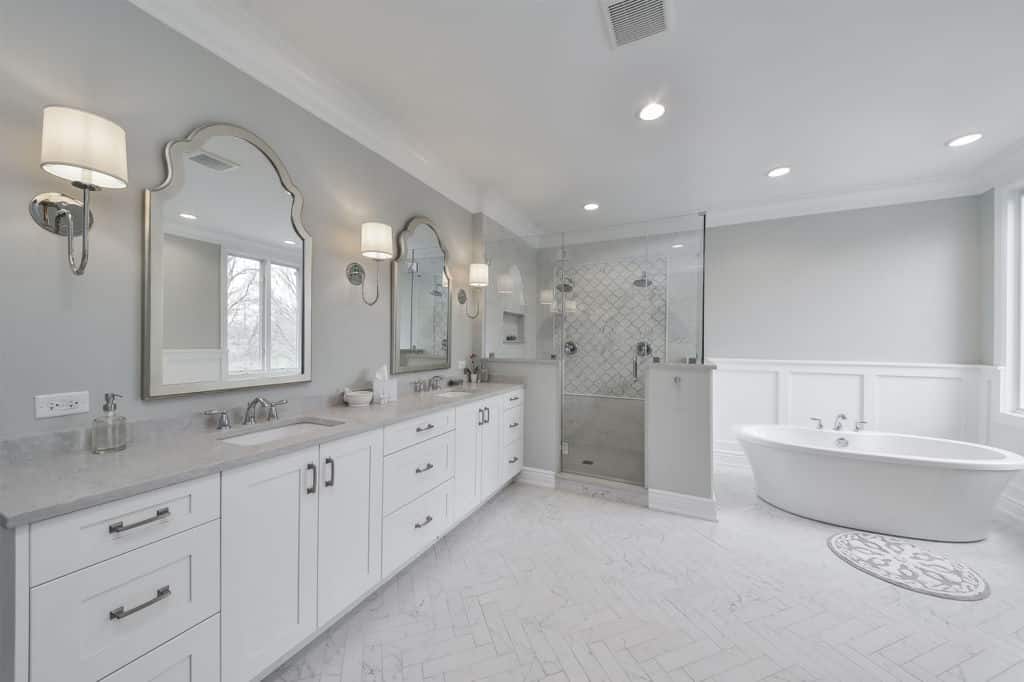 Your master bathroom is typically the biggest bathroom in your house. However, if it is not organized, it can start to feel more cluttered and constricting than others. You may be considering remodeling your bathroom or making some minor changes to the layout. But before you do so, you need to be aware of specific storage ideas for a master bathroom. Maximizing your bathroom storage will create a more open space while being able to store more.
By designing your master bathroom for maximum storage, you are not only utilizing it better but also giving it a new look by channeling best design practices. Confused? Don't be. Here's how you can design your master bathroom for maximum storage.
Utilize Unused Space
Out with the old, in with the new. Many homeowners are rejecting traditional fixtures like a bathroom vanity and replacing it with modern variants. A floating vanity is among them. It saves a lot of space and has a flowy aspect to it.
Now, even though a floating vanity may suit your design needs, you will need some help with the storage aspect. How? You can add a shelf below the sink and solve the problem. Not only does it use the unused space below, but it also retains the 'airy' look of a floating vanity.
Classic Clutter Solutions
From the modern, we move on the classic. Some problems require a classic approach. Medicine cabinets are as old as time itself (not exactly, but you get the drift). But one great thing about them is that they are designed solely for functional bathroom storage.
Now, we know what you're thinking. Those may be great for storage but are such an eyesore on the eyes. But they don't have to be! There are many modern designs available in the market. With these designs, not only will you have plenty of storage, but you'll do so with style.
Extra-Long Vanity
It's no surprise that your bathroom's vanity plays a huge role in how it functions, especially when it comes to storage. While free-standing vanities are the most common, nothing is stopping you from going that extra mile.
When we say extra, we really mean extra. If you have space, consider opting for an extra-long vanity. A wall-to-wall vanity will give you the space that you need to battle any storage issues that you might have in the future. Think of a 12-foot long vanity that is not only the focal point of your master bathroom, but also stores all your essential items.
Carve a Way Out
Now that you've put in shelves, cabinets, more cabinets — you are probably wondering, what's next? But if you are still having storage issues, you have to get creative. At some point, you're going to run out of space to install more cabinets. Instead, you can carve out a niche in your bathroom walls to create more space.
Bathroom walls are often referred to as 'dead spaces.' So, you can revive these dead spaces to carve out a solution for your storage needs. You can carve a cabinet shaped hole in your dry area and fix some floating shelves. By doing so, you are creating an in-built cabinet space.
Similarly, you can also create a shower cubby for your soaps and other bath essentials. Carved spaces provide a clean and simple look too. They also remove the need for additional (and sometimes self-imposing) storage options like a shower caddy.
Create a Dressing Room
If you remember Carrie Bradshaw (from Sex and The City's) and her old apartment, you know exactly what we are talking about. Every house has a particular flow to it. And a dressing room acts as a transition between your master bedroom and master bathroom.
At the same time, the dressing room is perfect for storing your items. Those $400 Manolo Blahniks have to go somewhere, right, Carrie? If you don't have the space to create a separate room, you can install a 'dressing island.' The dressing island will have cabinets and drawers to store your items, and is a perfect compromise.
Create Smart Spaces
Your bathroom is a place of zen and relaxation. While imagining your ideal sanctuary, what do you think? A cozy fireplace? A relaxing place to sit and enjoy?
While you are adding specific options like a bench or two, you can also double them up as storage units too. Create smart spaces in your bathroom that blend design and functionality. By doing so, you are tapping into underutilized aspects of design elements for your bathroom storage needs.
Adjacent Shelving
Every bathroom space has different possibilities when it comes to storage. For instance, a bathroom with a free-standing bathtub will have different storage requirements than one with a walk-in shower.
However, adjacent shelving is a common denominator for both. While thinking of storage, you also have to think of accessibility. What are the items that you need often? Those go in an easily accessible places. While the ones that you don't use a lot, go somewhere less accessible.
In that way, open adjacent shelves are perfect for grab-and-go items. They are great for storing towels, bath accessories, feminine hygiene products, etc.
Tip: A bookcase will solve your adjacent storage needs within a minute.
You can also create a small 'alcove' before your walk-in to make space for these essentials.
Use Open Shelves
Remember how we talked about using storage as a combination of design+functionality? Well, open shelves are the best way to implement it.
You can stylishly tuck away all your big items in closed cabinets. But open shelves act as a way to flaunt colors and aesthetic in your bathroom. You can use them to store your bath towels, quirky decor pieces and so much more. Think of open shelves as wall decor meets storage mecca.
In Conclusion
Your master bathroom is a labor of love. You want to design it to be your ultimate source of zen and peace in your house, while also making it as functional as possible. While you are remodeling it, you need to talk to your contractor to consider bathroom storage as a critical player.
At the same time, you have to ensure that any options that you consider have work for you. Your lifestyle, personal taste, and other similar factors play a crucial role in helping you design your master bathroom.