10×10 Kitchen Remodel Cost: Everything You Need to Know
There are many different sizes and layouts available for various kitchen remodeling ideas. One of which is a 10×10 kitchen, which is now a standard in many homes. While figuring out the 10×10 kitchen remodel cost, one must plan and decide their scope of work beforehand. 
For example, a homeowner can opt to upgrade their countertops, cabinetry, flooring, and appliances. A different homeowner might keep everything in place but replace all of the hardware. All of these factors end up affecting the total kitchen remodel costs.
You can even move the furniture to make the room appear larger. Various price ranges exist when you're looking for 10×10 kitchen remodel costs. Remember, the more overbearing/in-detail the process, the larger the overall budget. 
Average Small Kitchen Remodel Costs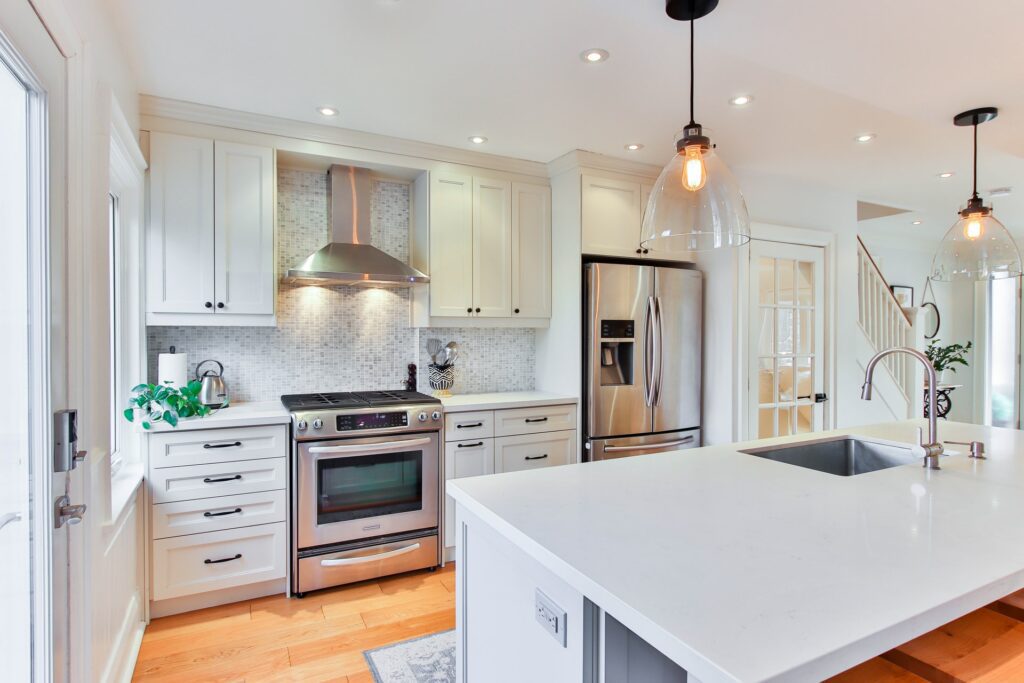 Since the majority of kitchen remodels are priced per square foot. The size of the kitchen could serve as a starting point for cost estimates. The more space in the kitchen, the more expensive it is. On a smaller kitchen, a complete renovation v/s a cosmetic makeover on a larger kitchen will cost a variety of sums.
A small kitchen remodel cost ranges anything from $6,400 to $20,250. Small kitchens range in size from 64 square feet (about 6 m2) to 81 square feet (7.53 m2) or somewhat larger. The arrangement of a small kitchen is usually more confined.
A galley kitchen is the most common layout for a small kitchen. This provides one or two runs of cabinets, based on how well the kitchen is laid out. It may be difficult to accommodate eating areas, islands, and other amenities into compact kitchens like this.
10×10 Kitchen Remodel Cost
The cost of a 10′ x 10′ kitchen remodel ranges from $10,000 to $25,000. This kitchen is 100 square feet (about 9 m2) in size. This is a kitchen that is tiny to medium in size. 
This dimension is adaptable to a wide range of kitchen layouts. The galley is one example, although L-shaped and U-shaped kitchens can also work. You can also transform this space into an eat-in kitchen.
Budget Per Square Foot 
The average cost of a kitchen remodel is between $100 and $250 per square foot. The cost of a cosmetic or partial remodel is around $75 per square foot. A range of factors, including cabinet quality, determine the overall cost. Materials, kitchen furnishings, and flooring or countertop materials are other important considerations.
Budget By Layout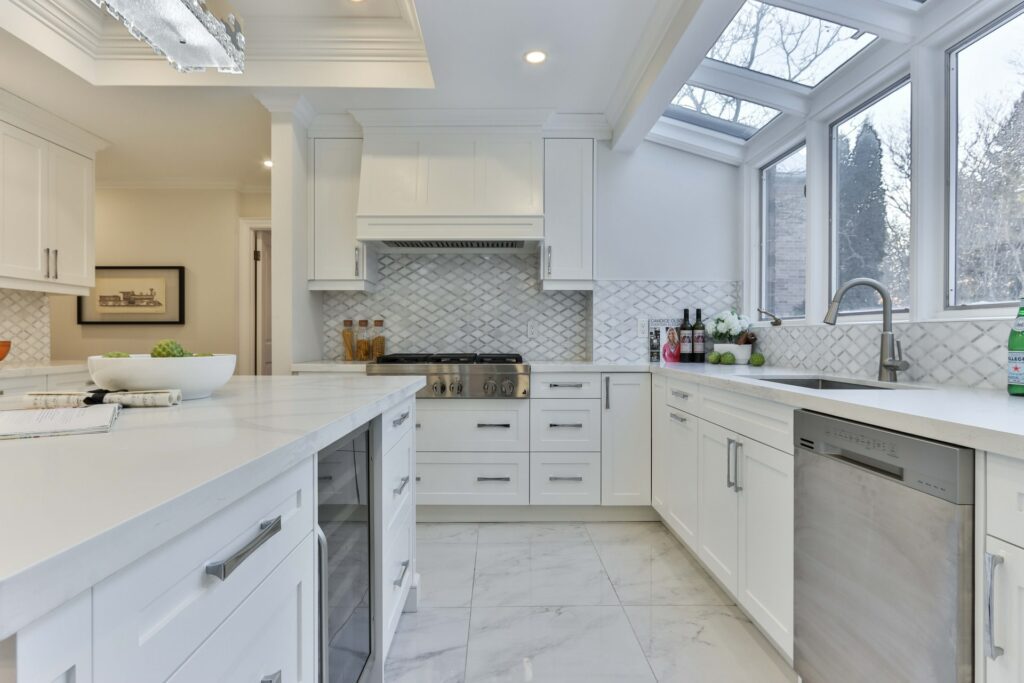 You can find kitchens in a number of different settings. The amount of available space sometimes dictates the arrangement. 
The smaller the kitchen, the better. There are fewer layout alternatives in smaller kitchens, but there are plenty in larger kitchens. Keep in consideration how the kitchen will appear in whichever configuration you choose. Your sink, refrigerator, and stove should all be within walking distance of one another. When all three appliances are in position, this forms the working triangle.
Why Does it Matter? 
You should keep construction codes in mind as you plan the kitchen remodel. Stove landing slots must be at least 12 inches (about 30 cm) on one side. On the one hand, 15 inches (about 38 cm) and on the other, 15 inches (approximately 38 cm). Refrigerators must have a minimum height of 12 inches (ca. 30 cm). Dishwashers are usually placed adjacent to sinks so that there is enough counter space above the dishwasher.
When it comes to putting in a kitchen island, there are a few things to consider. In between the edge and other cabinets or walls, allow at least 42 inches (1.07 m). To ensure that your kitchen operates effectively and meets code, you must include these aspects in your design. 
How to Budget a 10×10 Kitchen Remodel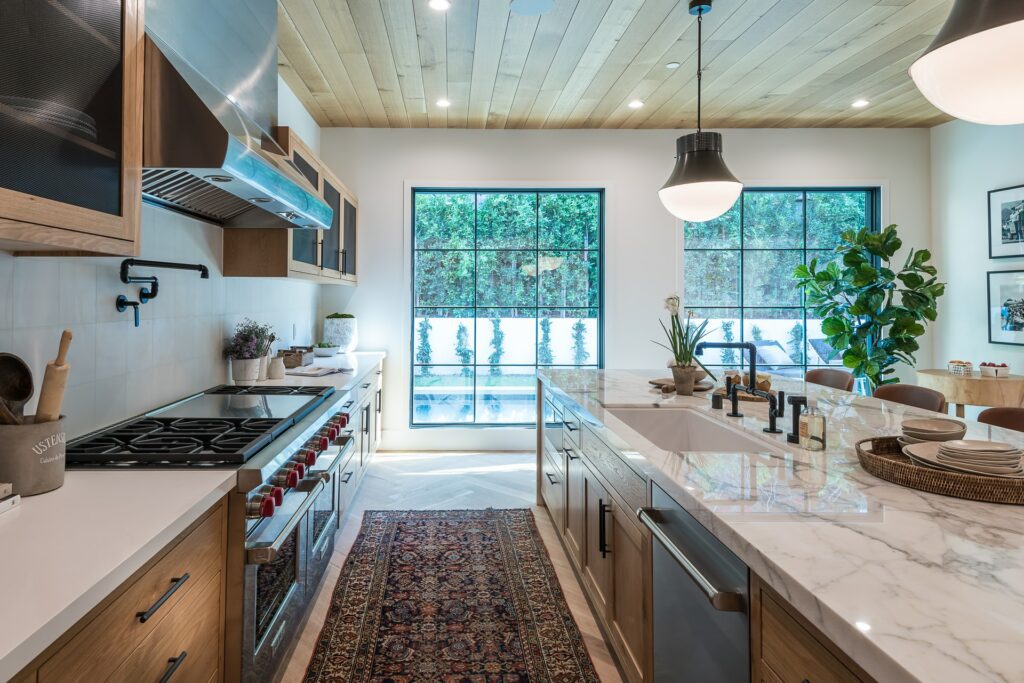 Remodeling a 10×10 kitchen can also be costly, making it difficult to stick to a budget. You can do budgeting for this expense in a number of ways. Reviewing the project breakdown is the first step. It will explain how much of your budget you should set aside for each design element.
After that, you should meet with a designer or builder to get an idea of the extent of the project. A kitchen remodel might cost anything from $11,000 to $42,000. You can determine this by using the scope of the project and the size of the kitchen. 
Remember, a cosmetic makeover is far less expensive than a complete overhaul. As a result, you should think about how extensive your project will be. Doing this will also help you save on your kitchen remodel in the long run.
However, the cost of the redesign is not usually the same as the project's entire cost. If you hire an architect, a kitchen designer, an interior designer, or a construction firm. For instance, their cost will be a percentage of the total spent in addition to the other costs. As a result, you must factor this cost into your entire budget.
Designer Costs
Before you start tearing down walls, you must first determine if you want to hire a remodeling contractor or do it yourself for your kitchen renovation job. If you employ a professional designer, expect to pay between $100 and $200 per hour. The designer's fee accounts for 10% of the total remodeling budget.
In-home consultations with design stores might cost anything from $100 to $800. 3D rendering, fabric and color selection, consultation with the contractor and vendors, and start-to-finish assistance and management are all examples of these meetings.
Contingency Fund
While you plan your 10×10 kitchen remodel cost, you must also include a contingency fund. This is frequently essential if you are looking for remodeling financing. It accounts for about 20% of the entire remodel cost and is separate from the rest of your budget. 
This fund is intended to assist with unanticipated costs such as mold and water damage. Alternatively, you can include the costs of eating somewhere else while your kitchen is being renovated.
By planning ahead of time for these additional expenses, instead of cutting corners midway through the project, you can ensure that you have enough funds to complete it effectively.