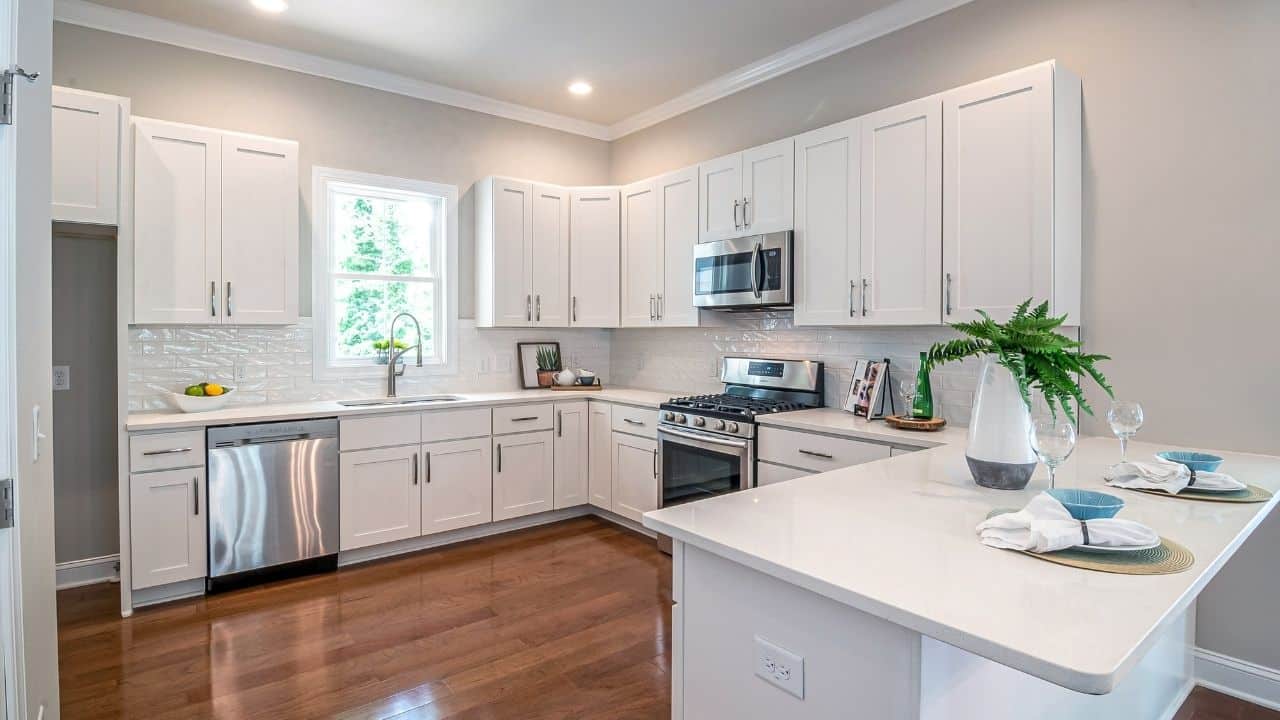 We have compiled a list of best design inspirations for 2021. Avoid making blunders with your remodel, and read more to find out how to update your kitchen in 2021.
#1 A Pop of Color: Updated Cabinets in 2021
Along with all of the new kitchen trends in the new year, embracing pops of color in the kitchen is one of our favorites. By using accent colors for your cabinetry you can update your kitchen and home. Pair your new painted kitchen cabinets with Mixed Metal Fixtures (Read #2) for a combo that is sure to impress and raise the value of the home!
#2 A New Concept: Mixed Metal Fixtures
Tired of looking at the same outdated faucet in your kitchen? Latest in the kitchen trends for 2021 is the addition of mixed metals throughout the home. With Pewter, Brass and Gunmetal rocking the market in January, we are optimistic that they are here to stay throughout the year.
#3 A More Open Approach to Kitchen Cabinet Trends: Open Shelving
One of the biggest trends for kitchen cabinets in 2021 is Open Shelving. Our experts recommend this for a minimalistic and modern look. Besides allowing the homemaker to unleash their creativity and play around with materials like wood, glass and metal, they are ideal for kitchens looking to utilize space between the windows. Jazz it up with some under cabinet lighting and beautiful dishes.
#4 Let's Keep it Raw: Raw Materials
Time to add elements like wood, shiplap and jute along with those precious granite or marble slabs to your kitchen. The idea is to create a more "natural" look that adds to a light and welcoming ambience.
#5 Mix-and-Match Vibes: Modern and Traditional Elements
Add traditional and modern elements together to create a kitchen that stands out in 2021. You can combine minimalistic designs and digital appliances with a choice of earthy stones. Although modern is the way to go now, nobody wants sci-fi look in the kitchen. It still has to be a place that seems comforting and welcoming, and that's where traditional elements can ground the entire look. Think matte finish with vintage-inspired fixtures for a delicate medley of modern day sophistication with class from days of yore
#6 Let it Shine: Pendant Lights
Breathe life into your dining area or kitchen backsplash with stunning new light fixtures. What do these lights have in common with chandeliers, you ask? Well, luxe look, of course! Think areas that stand out within an open kitchen. The hanging pendant lights are a must in 2021 for making a statement.
#7 Stand Taller with Confidence: Taller Backsplashes
Designers and home owners are realizing the convenience and striking beauty that a backsplash brings to the table (quite literally). We see a rise in the demand for luxe stones like Calacatta and Oro for this particular trend. If you don't want to splurge on your kitchen backsplash and stone, we recommend going for one that has intricate veining patterns but is still within your budget.
#8 Unity in Diversity: Contrasting Textures
World is celebrating differences, why should your kitchen be left out from this stylish trend? 2021 is the year where contrasting textures will take over. People are layering their cupboard inlays with bronze and pairing it up with soft matte wood for the fronts. Those exquisite countertops are being paired with tile patterns and mirrored walls.
#9 How to Do Appliances Right: Integrated Digital Kitchens
An updated kitchen in 2021 can hardly be called so if the "tech" is dated. Innovative technology is taking kitchens by storm. With the fast-paced life that we lead today, more and more people are rooting for appliances that are automated and make life more simple. Imagine how much time you can save by having your coffee made for you before you get up, thanks to a Wifi-enabled coffee machine. There are even Wifi-enabled kitchen pots now that water the plants for you! Convenience is the key for kitchen updates in 2021.
#10 Minimalism is Our Best Friend: Integrated Appliances
Nothing shouts "urbane" or "luxe" like sleek appliances. Besides going digital with kitchen gadgets, more home owners are turning to sleek designs. These sleek designs tend to be even stronger than those bulky, industrial-size appliances. Now lightweight doesn't have to mean less durable! Sleek is the luxe in 2021.
#11 Take Green Beyond the Trees: Olive Green
Trends are as much about colors as they are about elements, and we can't get enough of this classic color. Besides exuding a warm and classy vibe, this color can easily be used to add a statement to an otherwise dull kitchen. Be it painting olive green on your kitchen island cabinets, or even small elements like door pulls, add a bit of hunter green to spice up the ambience.
#12 Some Things Never Change: Matte Black
The late part of this decade saw a lot of matte black in the kitchen, and this is not going to change in 2021. Be it fixtures or hardware accents, this color is bound to dominate the detailing. We recommend doing your millwork details in black too. Not only does it serve as a refreshing addition to light-colored kitchens, but it also adds a pop of color. Think dramatic detailing in an otherwise muted kitchen.
#13 Say Hi to New-Age Pulls: Leather and Wood Drawer Handles
We are going back to the roots for this one. The world wants organic detailing now and the newest trend is leather and wood pull handles. The idea is to make the kitchen more welcoming and add a sense of depth. It's subtle but the results can be dramatic.