Minimalist Kitchen Remodel Ideas That Are Worth the Upgrade
Minimalist kitchen remodel ideas aren't just about purging everything from your kitchen. The key to a good kitchen remodel is to strike the right balance between design and functionality. 
Even though a minimalist design is difficult for such a traditionally maximalist space, it's certainly not impossible. After all, everyone needs some order and organization in their kitchen space. Let's have a look at some of the top kitchen remodel ideas that you can easily implement during your remodel project.
Begin With an Open Approach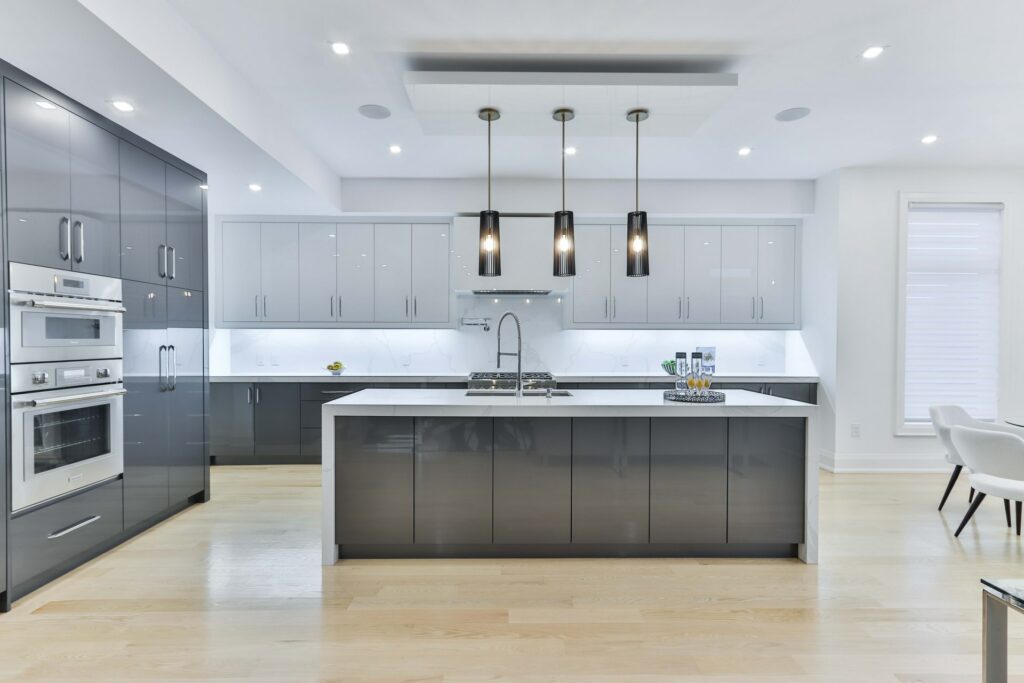 Always begin a minimalist kitchen makeover with an open view in the idea of simplifying your living area. There must be no hurdles between the kitchen and the living space to maximize functionality. This could imply knocking down walls or shifting cupboards to create a kitchen that allows for both socializing and cooking.
Combine Whites and Woods
Minimalist kitchen remodel ideas do not have to imply a cool setting. A great modern minimalist style mixes cold, smooth whites and warm natural woods to create a clean and friendly atmosphere. A two-tone minimalist kitchen, when done right, can make a tiny space look larger.
Choose Hidden Hardware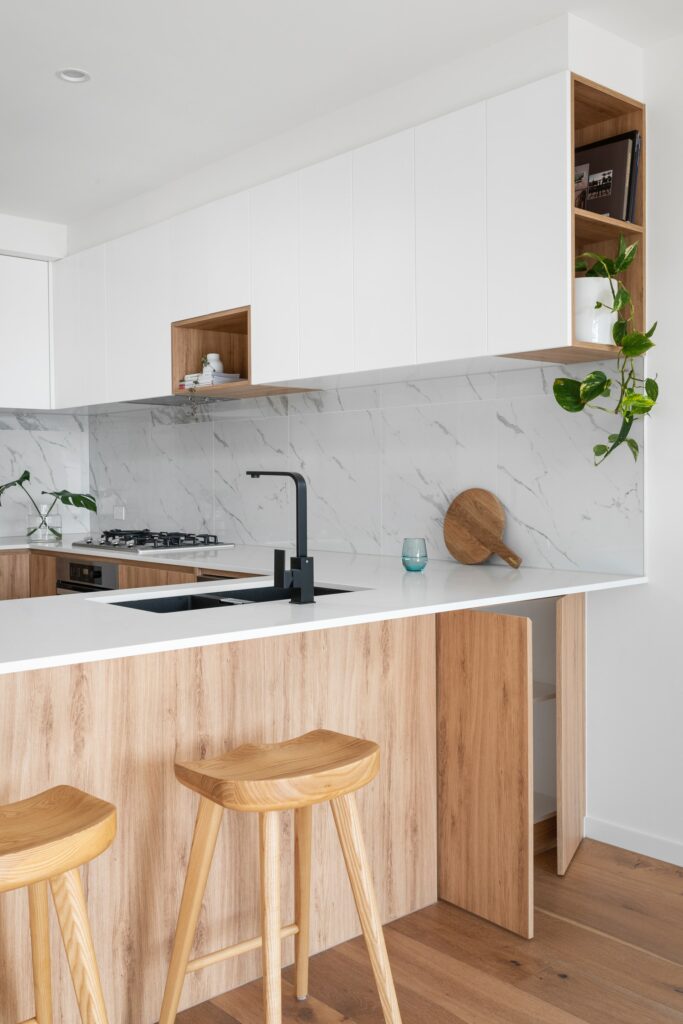 Kitchen cabinet hardware that is too large deviates from the clean lines. Choose frameless cabinets with hidden hinges and integrated handles when designing a minimalist kitchen. 
You don't want to renew your cabinets completely to cover the handles. Right? Pull bars in a sleek, European style can also be used to match your built-in kitchen appliances.
Add Seamless Countertops
Concrete countertops are ideal for creating a gentle, minimal kitchen remodel style. A clean kitchen with warm ties to nature is created by combining stripped-down, natural elements like concrete with crisp white cabinets and matching walls. 
Try a shining, polished kitchen countertop for a more modern style. Further, bring a small potted plant as a décor element for a useful splash of color.
Similarly, for minimalist kitchen remodel ideas, solid surface counters are also a perfect option. They're not only non-porous and easy to clean but they're also made without apparent seams. 
You can even have your kitchen sink built into the countertop design for a seamless and consistent look.
Add Some Dark Hues
A minimalist kitchen remodel does not have to be confined to lighter colors; it may also embrace darker themes. There are no rules that prevent you from using black hues in a minimalist kitchen.
Dark colors like black or gray are chic and classy, and they also well with a minimalist design style. However, to attract light and avoid producing a rigid feeling, maintain some items of your kitchen space in light colors.
Lighting For Under Cabinets
Kitchen lighting is essential too for a minimalist design. However, bulky, out-of-date hanging lights add to the visual clutter. There are various options that you can choose for improving lighting in a minimalist kitchen. 
Our favorite type of lighting is under cabinet lighting. Even better, your local shop can offer a bunch of hidden light bar alternatives that will brighten up your minimalist kitchen remodel ideas. These focused lightings typically create a more serene atmosphere, perfect for a kitchen design.
Add Appliance and Shelves in Black
As stated earlier, it's not necessary to have an all-white kitchen to be minimalist. For a refined look, most modern kitchen remodel ideas blend black cabinetry with pale tile or wood floors. 
Choose wood floors and furniture for a cozier look. Consider glossy tile and metal kitchen stools for a more contemporary look. If you don't want to go with stainless steel, black cabinetry and appliances look great with copper fixtures as well.
Change Bulky Faucets
Don't let an out-of-date faucet interfere with your minimalist kitchen remodel ideas. Fortunately, there are plenty of sleek, modern kitchen faucet styles to pick from. 
Choose a faucet with few to no ridges in stainless steel or a color that matches your appliances. Try out kinetic kitchen faucets for a completely clean look. When preparing food at home, they are a convenient and hygienic choice.
Opt for an Integrated Refrigerator
Get a panel-ready, fitted refrigerator for your minimalist kitchen if a new fridge is in your renovation budget. Fitted refrigerators blend in with your cabinets and sometimes even have a cabinet panel to help them blend in even more. 
Hidden kitchen appliances are more expensive, so a stainless steel refrigerator is a decent option if you want a kitchen remodel on a budget.
Add Minimalist Furniture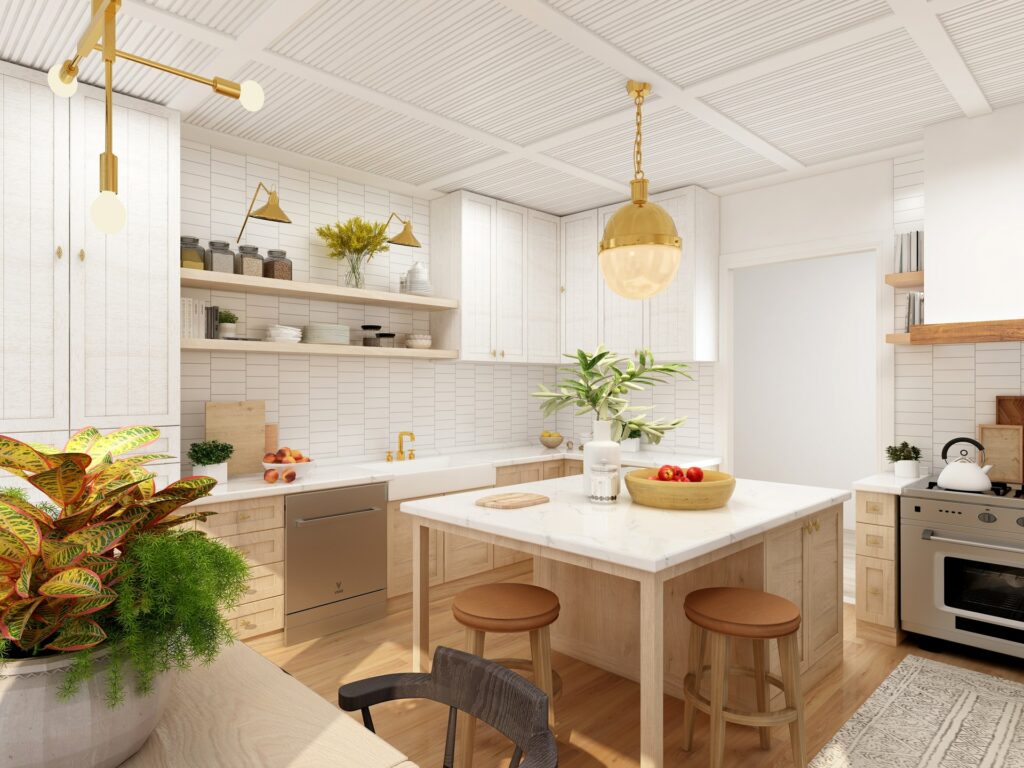 You'll need the right minimalist furniture for sitting down to eat if your kitchen island doubles as food prep and dining space. For a cleaner look, use stools with no backs or low backs. 
Similarly, you should cling to your kitchen's limited color scheme for conventional minimalism. Stools are also a brilliant way to add a splash of color to a minimalist kitchen that is otherwise monotone.
Include Only the Necessities
Minimalist kitchen remodel ideas are all about making do with less. A two-person family doesn't require all sorts of dishware you've gathered over the years. 
Set aside only the dishes, bowls, and cups your family needs, and donate the rest. If you're replacing all of your dinnerware, go for plain white themes with no patterns.
Embrace the Empty Space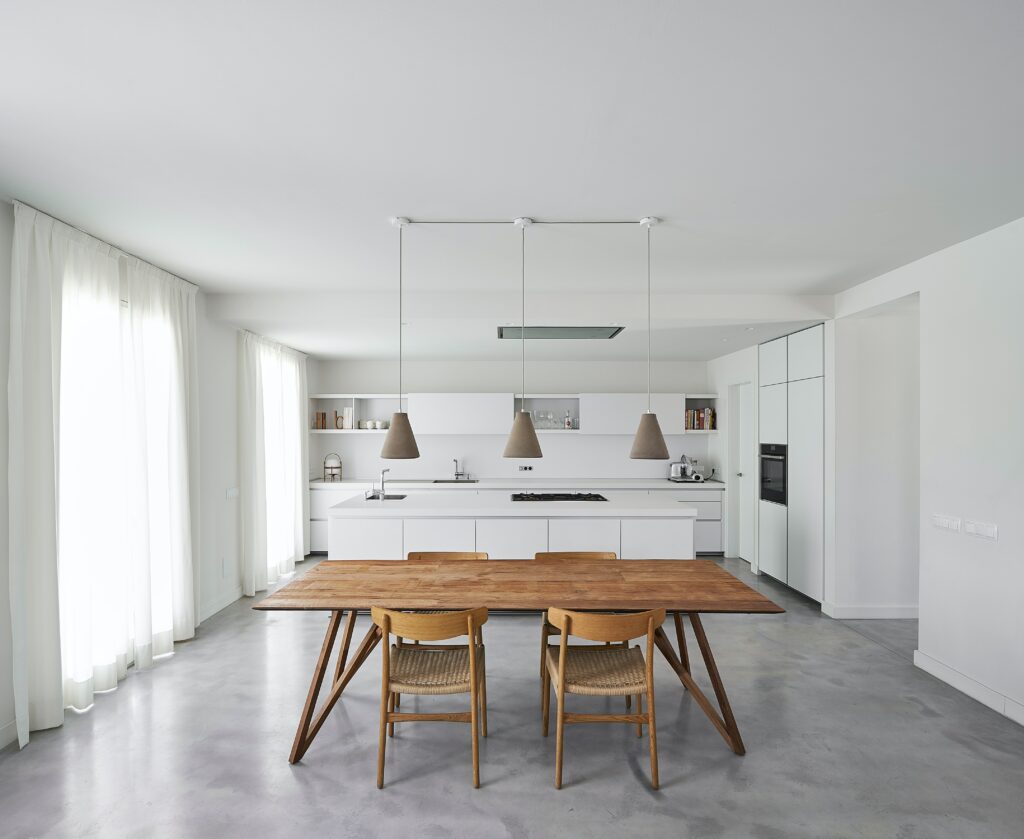 Classic designers could try to fill this space with shelves and cabinets, but minimalists understand that emptiness can be inviting too. 
A single framed picture placed between two flexible task lights adds interest to an otherwise bare wall. For instance, a pendant light above the dining table matches the minimalist aesthetics of the rest of the kitchen.
Refine the Details
Aesthetics and minimalist décor go together. Decluttering the place, which is vital to a minimalist look, does not stop you from designing your kitchen.
You should select decor items that fit a minimalist kitchen. Flowers, a table with sleek lines, a minimalist prep sink, and other simple objects can be used to spice up the room. Even if your kitchen is small, it should reflect your personality.