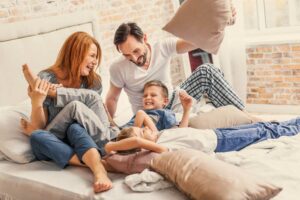 Being a working family in Fairfax, Virginia, could see a significant improvement in July if the local administration gives the green light to a proposed tripling of paid parental leave for county employees to six weeks.
Currently, workers on the county's payroll have the right to take only two weeks off their jobs. This is without suffering any cuts to their payments in case their households welcome a new member. The program is flexible in the sense that it covers not only birth but also adoption and foster care placement. It also covers personal and family health issues but the amount of time they receive is too short. Families often end up having to exhaust their annual and sick leaves in the process as well.
Apart from the two weeks of parental leave in Fairfax, county employees currently have 13 days of sick leave. This is on top of an annual leave of 13 to 26 days depending on their tenure. Under these conditions in households, families with newborns and ailing members sometimes have to resort to leaves without any pay. They face difficulties in making ends meet while taking care of those who need their help. Luckily, their struggles do not go unnoticed.
The representing Service Employees International Union Virginia 512 has repeatedly raised the matter at the county level for "it really is a matter of life quality," says David Broder, its president. "I hear every single day from members about why this is so important, from workers who are expecting…to another member who was battling cancer."
Adoption Highly Likely
Now, if the Board of Supervisors adopts the proposal to expand the paid parental leave program, possibly to take effect in July 2020 in line with the county's budget for next fiscal year, families will start to get a much more favorable treatment in such cases and be able to use their annual and sick leaves more properly. And initial signs out of the executive body point to a likely adoption soon.
"Our employees are the backbone of our county. They are the ones who bring our world-class programs and services to life," Fairfax County Board of Supervisors Chairman Jeff McKay says in recognition of workers' contribution to the life in Fairfax and the importance he attaches to making their lives better in return. "This (proposal) is a great step toward my goal of making Fairfax County the best place for working families."
Result of Long Negotiations For Tripling Paid Parental Leave
There are nine other members on the board besides McKay, representing different districts. The executive body arrived at the current crossroads between adopting or rejecting the proposal after McKay himself introduced a resolution asking staff to compile information on the county's paid leave opportunities following months of negotiations with Broder's union. The board unanimously passed the resolution last July.
Elsewhere in Northern Virginia, there are stark differences from one constituency to another. Arlington County currently gives its employees up to four weeks of paid parental leave at home, while Loudoun and Prince William have no parental or family leave programs.