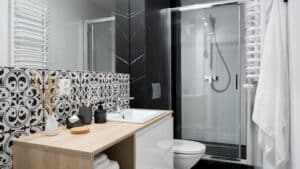 Have you been in a small bathroom before? I know, it's uncomfortable at times. You feel like you need to lose 10 pounds to fit in. Trying to make everything fit in the bathroom space, is a like a giant puzzle. Figuring toilet and sink code, creating enough space in the shower, where to put towels, yes, it is challenging. However, worry no more. Dulles kitchen and Bath has the thing for you. We help you design your small bathroom and make it comfortable for all users. Here are some of our designing tips.
Use Corner sink. Sink holds up a lot of space in your small bathroom. It's wise to fit it strategic. Placing you sink across from the toilet is far much better than across from the shower. You will be surprised how much usable space you will save. Therefore, this will eliminate the awkward movement that you usually have when you open or close the bathroom door.
Consider a shower curtain. A shower curtain that moves back and front saves a lot of space compared to glass door which moves in and out. When opening or closing the shower door, you use a lot of space which is unnecessary, consider skipping it.
Extend your mirror. Have your mirror stretched across the wall rather than just on the vanity. It can enable at least two people to use it at once. Saving time, right? Remember in a small bathroom, every inch saved is very helpful.
Use trough sink. Consider installing a narrow and stylish trough sink in your small bathroom. Besides being good-looking, it saves space. It has a low profile. When you mount it on the wall, it helps you free up a lot of space for storage or foot traffic.
Consider wall-mounted faucets. Mounting faucets on the wall helps to free up space since it allows you to use a narrow sink or a vanity. Don't be afraid. Try it to design your small bathroom, and you will be surprised how it works great.
Install towel bar on the door. Do not be confused on where to mount your towel bar in your small bathroom. Putting in on the shower door keeps your towel handy for drying off. Therefore, you don't need to store your towels in a closet, and having that towel close to you after the shower is essential.
Paint with light colors. Painting with bright colors such as cream or white makes the bathroom feel big. You can do this by also using a large scale pattern. They trick the eye by giving it an unending view and seeing expanded Try this. It's awesome.
Consider extending the counter over the toilet. You may design your small bathroom using this arrangement by using wood slab or stone. The extended counter will create sufficient space for storing additional items. It does not influence the placement of toilet and maintains it clean.
Keep it simple. Do not use a lot of materials. Focus on high quality and make it simple. Thereby, the available space feels fabulous and elegant but not overcrowded.
Use open shelves to store bathroom essentials. Many people need space to store tissue paper, bath salts, towels and other pretty essentials. Open shelves will help to substitute cabinets since you mount them on the wall. Thus, this frees up space in your small bathroom.
There is a lot of your bathroom remodeling. Do not fear the size of your bathroom. Call us and will guide you on how to design your small bathroom effectively. We have experienced professionals in this field, and we will ensure your designing process is successful.